Here is an overview of the ticket life cycle of MetaCaseDesk – an innovative and highly customizable case management, IT helpdesk, and ticketing tool.
MetaCaseDesk is a Microsoft SharePoint based case management system. It is compatible with Microsoft SharePoint Server 2010 and 2013.
The ticket life cycle of MetaCaseDesk begins when a new ticket is created by the user, and ends when the ticket is closed by the support team. In the process, the support team, which works on the ticket, modifies it many times.
Let's see the ticket life cycle of MetaCaseDesk in a step-by procedure. Steps are as follows: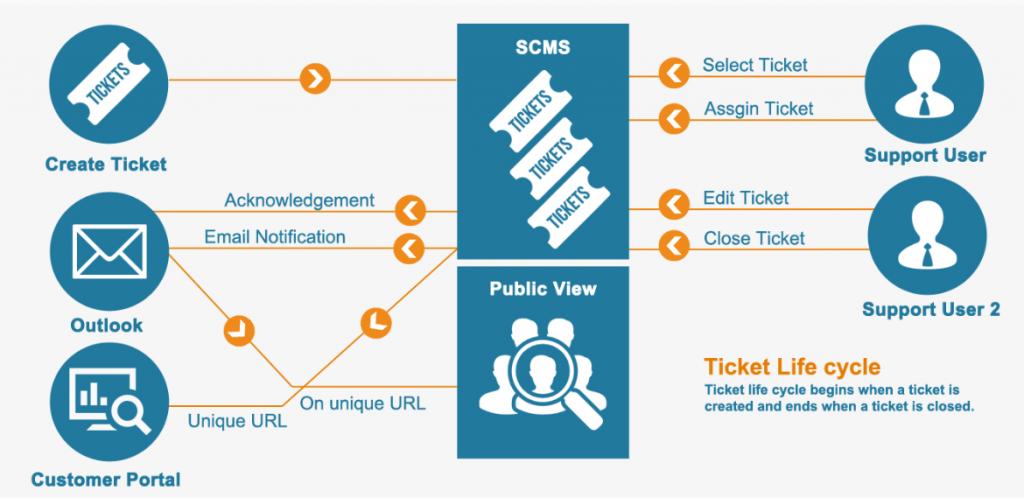 Ticket life cycle of MetaCaseDesk, from creation to closing of ticket:
Step 1 User (or customer) sends request to resolve the technical issue through email/customer ticket portal. MetaCaseDesk extracts information (related to the issue) from that email, and generates a ticket.
Step 2. MetaCaseDesk sends acknowledgement email to the user, and updates ticket information in customer ticket portal. An acknowledgement email informs user that a ticket has been generated to resolve the issue.
Note: The acknowledgement email also contains a unique URL, which user can use to get a public view of the ticket.
Step 3. The support team reviews the ticket, sets priority, and assigns it to the appropriate person in the team.
Step 4. The appropriate person/support user starts working on the issue.
Step 5. After resolving the issue, support user does login into the MetaCaseDesk, selects the ticket, adds important notes, and finally closes the ticket.
Step 6. System updates ticket information on the MetaCaseDesk and customer ticket portal, and MetaCaseDesk sends email to the user. This email notifies the user that issue is resolved and the ticket is closed.
Note: Modifications made by the support team in the ticket are updated in the MetaCaseDesk and MetaCaseDesk sends email alerts to the user regarding the same.
The Ticket life cycle of MetaCaseDesk is easy to understand. If you still have any question, then please consult our expert!