Hosting in a simple terms is becoming a host to your application software running on a distant (off-premise) hardware installation, without needing you a dedicated physical installation on your premises. What you need is simply a user account or a url is connecting to the distant server. With its popular name-cloud computing, it is simply a computing based on the internet.
MetaOption hosting services include a backup system, security and file management system. These are the mandatory requirements to maintain the Microsoft's Gold Certified Partnership. Hosting your applications allows you to concentrate your resources on establishing your business and not on significant IT investments.
Here are some of the beneficial factors for choosing hosting as an application deployment platform:
Cost cutting
The most visible benefit of engaging MetaOption as a hosting service provider is the elimination of a huge upfront investment cost, which is invariably incurred on the setup of IT infrastructure including hardware like servers, storage devices, database systems, software licenses as well as on IT personnel. A cloud hosting service provider, like MetaOption, does everything for you, with all its expertise and experience in handing IT related issues. So, it allows you to invest more on activities of priorities. You just need to pay a monthly subscription fee to overcome the redundant worries.
Safety of data and quick retrieval
Storing your vital business data on the cloud is not only easier but also safe. MetaOption, with its professional approach in handling takes every care of your data in maintaining and retrieving any time you need. Data that you could otherwise store in some physical devices at your own premises, could be prone to unforeseen damages or external viral threats. Your hosting provider is well experienced in dealing with external threats. So, you can now focus better on your usual work with reduced anxiety.
An Office away from Office
One of the most popular advantages of hosting services is that you are never away from your office cabin, even when you are physically far away from it. As an owner of your organization, you can always keep an eye on your office, and thus provide a timely intervention for the coordination. In other words, wherever you are in the world, you are actually roaming with your office. Moreover, by providing access to its cloud through mobile devices, MetaOption makes your employees feel always on work, at the same time, always on rest. This way, it ensures the right work-life balance. Office work is no longer a burden for anyone.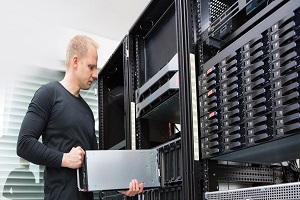 Greater collaboration, increased organizational efficiency
By allowing dispersed people (employees, clients, and management) meet virtually and share critical information in real-time, MetaOption facilitates reduced overlapping of works, and improved collaboration. Further, due to centralized data storage center, data retrieval becomes quicker.
This in turn, increases the overall efficiency of the organization as it was never before.
Automatic Software Integration
As a part of your business process, you are supported by a number of software applications in managing the routine works, such as business software Microsoft Dynamics NAV, Microsoft Dynamics NAV CRM, and Office suite O365 etc. In the cloud, software integration is much easier than the on-premise deployment option. Here, MetaOption provides the hosting for other useful software too that you need in a much integrated manner, usually something that occurs automatically. In other words, you are not required to make additional efforts to customize and integrate your applications as per your requirements.
Eco- friendly
By minimizing a number of energy emitting hardware, you are making your workplace more environment friendly, and improving quality of life in your organization in particular and the world, in general. This way, you are doing a social work and you don't even recognize. That's the power of cloud computing, when machines help you becoming a better human.
MetaOption can host your purchased Microsoft Dynamics solution or rent you a solution in a secure environment. To know more, contact us.
Learn more about Dynamics ERP Hosting on Partner Cloud?