One of the main factors that have enabled Microsoft Dynamics NAV trump its peers as a leading enterprise resource planning (ERP) tool is its robust and efficient finance & accounting module. It consists of several sub-modules for managing general ledgers, accounts payable/receivable, fixed assets, bank accounts and other resources. The module has costing capabilities for managing employees and machine costs. It also offers multi-entity accounting & consolidation functions to the users.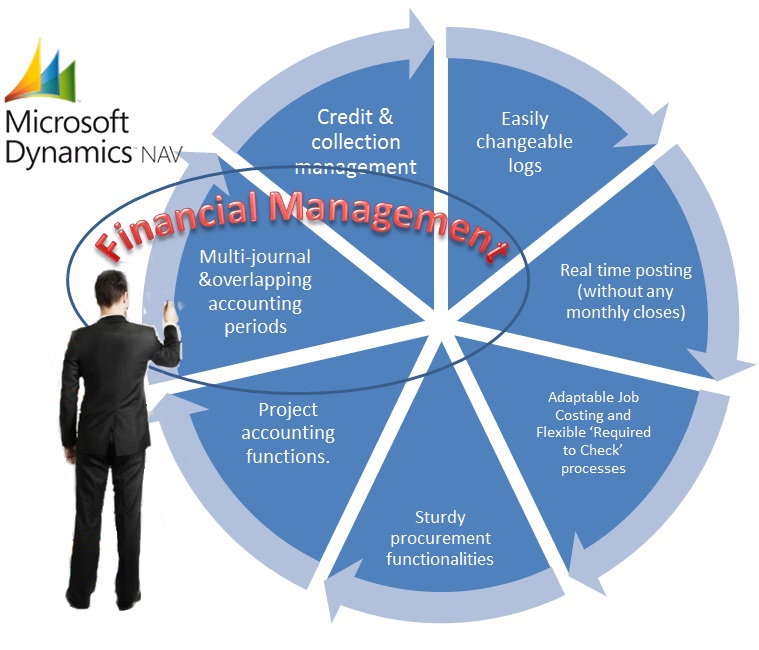 Some of the main features that help NAV stand-out as a financial management tool are multi-journal & overlapping accounting periods, real time posting (without any monthly closes), credit & collection management, easily changeable logs, sturdy procurement functionalities, flexible 'Required to Check' processes and adaptable job costing and project accounting functions. Adding to these features, NAV also offers many more integrated service management features, such as alternative pricing options within jobs of similar or varying job types.
NAV's fixed asset sub-module adds another feather to its cap. It takes into consideration the practical fact about businesses that the value of fixed assets depreciates with time, and also the rate of depreciation of assets often depends on the nature of business. This allows the user to select the depreciation rate for his/her business, and the system will automatically compute the acquisition, maintenance & insurance costs for the fixed assets.
As a true global ERP software, Microsoft NAV possesses advanced and flexible multi-currency capabilities. The user can choose from over 40 different currencies and create multiple accounts with them. He/She can also create multiple reporting options with the selected currencies, and the system will automatically compute the realized/unrealized gain or loss, and generate the required report. Such business reports can be created in different languages, thanks to the multi-language features of NAV. The ERP also supports advanced accounting capabilities like value added tax (VAT), GST and sales tax calculation.
Alike other Microsoft Dynamics ERP modules, its finance & accounting module is also available as integrated Business Essentials and Advanced Management packs, which are well complemented by the unrivalled customer support services of Microsoft.