Business enterprises have embraced the concept of Mobile CRM (Customer Relationship Management) as they are aware of the fact that success in business is the sum of small efforts, repeated day in and day out.
Mobile CRM is all about getting closer to your customers, addressing their needs, building customer relationships and empowering your employees to deliver a superior quality customer experience — all this by adopting the cross-device mobile application platform.
Business does not revolve around finding customers for your products, instead it focuses on finding products for your customers. Being more productive in business is about having conversations with your clients. You have to be the solution they are looking for! For this, you need to have access to critical customer information in real time, view history and customer cases, record customer calls, e-mails and notes and manage opportunities and leads — all from your modest mobile device, with just a single touch on the screen!
CRM can be deployed securely in diverse ways including on-premise, hosted in the cloud or in a secure data centre. The Microsoft Dynamics CRM 2013 and Microsoft Dynamics Online can run on diverse versions of Internet Explorer, Mozilla Firefox, Google Chrome and Apple Safari.
"All business success rests on something labelled as sale, which at least momentarily weds company and customer." Adopting Social CRM has further enhanced visibility and productivity, better customer interaction, improved analytics and reporting, improved integration with enterprise apps and increased market research and customer support.
xRM (Extended CRM) has centralized customer information, streamlined sales cycles, and automated lead management. Being accessible from your smart phone, the much scalable CRM Online has resulted in ROI (Return on Investment), security and optimization features for navigation on the smart phones and better collaboration with workforce even while on the go, across a multitude of devices.
To stay ahead of your business competitors, it is imperative to monitor your business marketing and sales as well as customer service constantly. You need to gain access to real-time reports, update customer data or interact with your esteemed customers, even while on the move. Mobile CRM is ideal and secure for sales executives, sales managers, service technicians and CEOs.
Advantages of Mobile CRM: Customer Interaction Matters!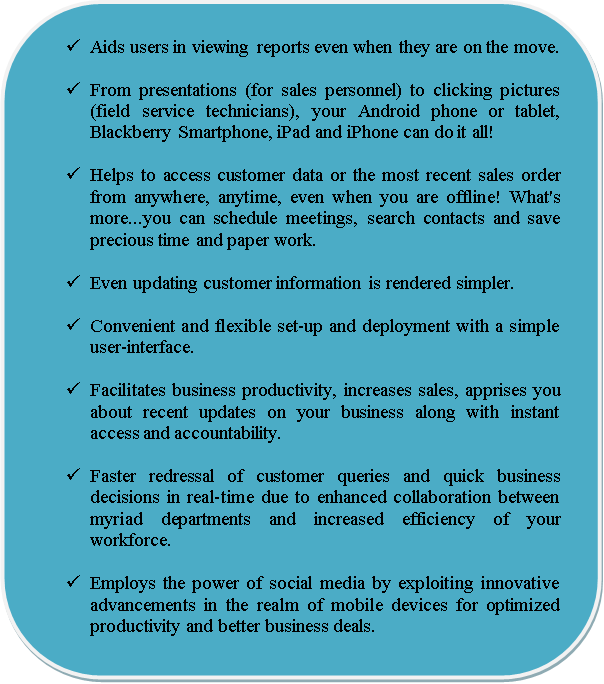 Mobile CRM for various departments in your Business Enterprise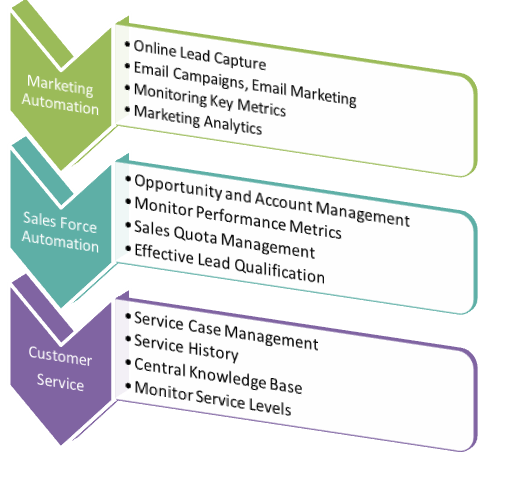 Needless to say, the customer experience is the next competitive battle ground. Customer service demonstrates your attitude and a customer's perception is your reality! True, isn't it? Mobile CRM reaches out to your customers, bestows you with the opportunity to listen to the actual words and actions they are giving you, makes room for you to deliver exactly what is promised and exceed customer expectations so that they come back again and again!