New Trends in The Use of Mobile Apps
Mobile Apps denotes internet applications which run on tablets, Smartphones and other mobile devices. Originally, these Apps were utilized for retrieving general information on weather, calendar, stock market and even contacts. But their demand and usage expanded very fast into diverse categories like gaming, GPS support, banking transactions, purchase of tickets, factory automation, medical and even as inventory tracking system.
Being portable and giving the added advantage of working from anywhere in this BYOD (Bring Your Own Device) era, the use of mobile phone has increased drastically. So has the use of these apps in the realm of not only messaging and social media, utilities, media and entertainment, games, NEWS, health and fitness, lifestyle and shopping, but also in Business.
Would you believe that iOS and Android users have spent 86% of their time with mobile devices and used apps in the year 2014?
Using Mobile Apps for Business
Mobile apps are stored as an icon in the device app store from where you can access it even when you are offline. This aids your business by increasing accessibility, building customer relationships, increasing brand value and visibility of your enterprise, bringing prospective clients and generating repeat business and enhancing your social networking capabilities. Push notifications inform customers of special events.
In business, apps are an affordable and effective way to reach out to customers. Amazon, eBay, Gap, and Target started promoting their business using mobile apps much earlier. Others followed suit and today, mobile apps are the most affordable and effective way to reach out to customers.
Apps are doubling up as fitness coaches and health experts! You can even count the calories you have gulped down hurriedly and check for your overall fitness. Do you know that in 2014, users are spending 2 hours and 42 minutes every day on their mobile devices?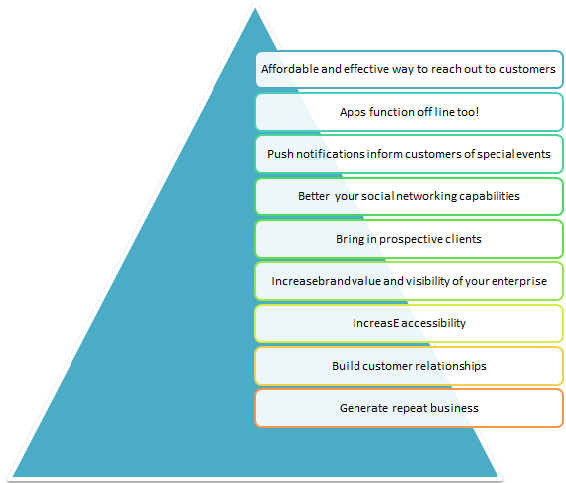 Future Trends in Mobile App Category
Games are the most popular mobile app category today. They are monetizing through advertisements and have catapulted simple enterprises into brands in their own right!
Facebook is also an app that you so much love to use!
Business enterprises are choosing Native Mobile Apps which render distinct UX (User Experience), fast loading speed with push notifications and product recommendations even when you are offline.
BYOD (Bring your own device) with increased use of mobile devices has led business organizations to build apps pertaining to their own specific business requirements.
Business processes can now be completed using mobile devices from anywhere and even while you are on the move. This has led to increased collaboration, better productivity and streamlined customer service.
Orders, sales presentations and processes are being managed by apps.
Their financial services apps, apps that manage workflow management, Cloud and CRM Apps that aid in sharing of content and information within the company.
Apps are being specially designed and developed with mobile friendly APIs.
Mobile application management (MAM) is about controlling access to business data and even removal of locally cached data from a mobile device in case it is lost or the employee joins another company.
But the near future shows trends of integration with the enterprise environment. There are many success stories already!