Business enterprises need efficient business processes to deal with Customer Relationship Management (CRM) because the most important aspect of business is — the customer! The Dynamics CRM software enables organizations to interact and collaborate with already existing customers as well as the potential ones.
Microsoft Dynamics CRM fits in as a CRM management solution which aids you to organize and harmonize all interactions pertaining to marketing, sales, service and support services for customers and social media.
Microsoft Dynamics CRM Integration: Why is it required?
Microsoft Dynamics CRM integration enables business enterprises to catapult the strength of CRM solutions to a higher level by synchronizing with other applications, systems and data types. As a result, processes are streamlined and business is rendered more efficient. For instance, by connecting with social media services like Twitter or LinkedIn, you get a single view of your customer.
As your business grows, you require an integrated solution in order to connect on-premise and cloud systems.
Integration with Accounting and Billing Applications
There are many advantages of Dynamics CRM Data Integration with Accounting and Billing Applications. Some of them are listed below:
Improves productivity and efficiency as financial details of existing and prospective customers are provided to Dynamics CRM users.
Automated processes help reduce errors which otherwise can occur in case of manual entry. Diminished data duplication between two systems.
Duplicate data in accounting records easily detected and eradicated too by deactivation or deletion. Thus, data quality is maintained within account records.
Customer data is centralized into an integrated system so that all employees in various departments have easy access to it.
Tracking data, organizing data and displaying data numerically and graphically becomes feasible.
Integration with your accounting package aids you in synchronizing Dynamics CRM records with accounting and billing data.
Comprehensive and cost-effective solution which enriches customer experience and also gives full visibility.
Enables in quick marketing solutions and competitive advantage over your competitors.
A unified view of all applications — MS CRM, billing system and self-service portal applications.
Improves the lead-to-cash process and trims down paperwork and redundancy.
Dynamics CRM Data Integration with Accounting and Billing Application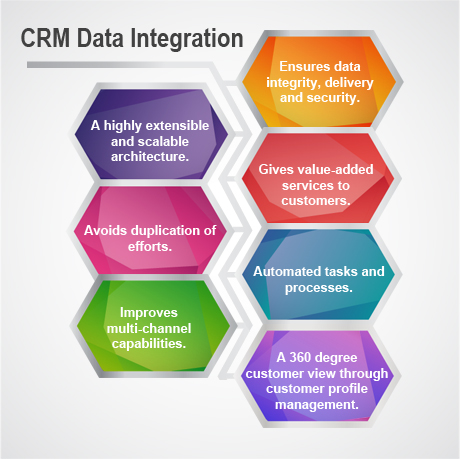 Customer profile, invoice, purchase orders, invoice payment, customer transaction, receivables, data mapping — all become possible with Dynamics CRM Data Integration with Accounting and Billing Application. Creation and updating of accounts, purchase, contacts, invoices, sales orders, sales receipts, contracts, jobs, estimates, payment histories, error management and monitoring etc. become easy.
MS Dynamics CRM preserves the investment in the accounting system and extends significant back office application functions in the front office, thereby eradicating duplicate entries. Customer records, invoices and other important business information are seamlessly integrated so that you can also view and just compare or verify modifications made to the customer information in your financial application or MS Dynamics CRM.
Well, such integration improves customer relationship, customer satisfaction, encouraging loyalty and customer retention. Everyone from the employee to the customer is empowered. That's what CRM is all about!