Do you know that the first outsourcing agreement was in the year 1963 when Blue Cross of Pennsylvania hired Electronic Data Systems for data processing tasks? Well, today Offshore Software Development or Software Outsourcing aims to develop high-quality software at reduced costs in low wage nations.
Offshore development is contract-based — a relationship between client and vendor. Most of the companies in USA or UK have opted for Offshore Software development. Indian firms lead as offshore outsourcing vendors, others being Ireland, Russia and China.
Advantages of Offshore Software Development
High Quality of IT Services at low cost (labour arbitrage).
Services delivered in a shorter period of time.
Valuable resources freed for more focus on core business.
Augmenting development or testing requirements.
Technically adept developers ready to work for lower remuneration offshore.
Potential tax savings also attract some business organizations.
Some companies only offshore project management functions and non-critical software to concentrate on business.
Sometimes even superior services are obtainable at competitive costs.
Due to varied time zones, the software development cycle continues incessantly, for 24 hours! How? Work is collaborated in such a way that when the development team in US ceases work, the team in India picks up threads.
How Does Offshore Software Development Save Costs
Offshore Software Development can be carried out by an Independent Software Vendor (ISV) or by a Software Product Development Company. Business processes are actually relocated by the client company for economic benefits (corporate profitability). Offshoring Software Development is akin to free trade that benefits the client and vendor companies which enjoy increased gross domestic product (GDP), quality as well as reliability.
Investment in infrastructure, recruitment and maintenance is saved and more emphasis can be bestowed to core competency fields. At competitive costs, offshore development gives you advantages of technical expertise, multi-discipline skills, transparency, customer satisfaction and yes, commitment due to increased competition between vendor countries too.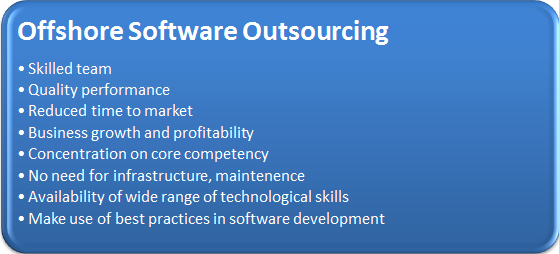 Vendor companies have a dedicated pool of software professionals who deliver the desired output without the effort of managing them. They continuously scale up and improve their skills and team numbers as per client requirements and market need.
Difference between Off-Shore, On-Shore, Re-Shore
Re-shoring is when offshoring is brought back onshore. It is also referred to as back shoring or in shoring.
Offshore means overseas that is, outsourcing software development to a different country.
On-shore outsourcing is also outsourcing but the company you outsourced the software development is within your country.
Fields Related to Offshore Software Development
Outsourcing software development involves IT services such as portal development, e-commerce development, application re-engineering, help desk operations, software development, project rescue, software quality assurance or testing services, maintenance and support. Offshore Software Development services also comprise of developing mobile applications, customized product development, IT Outsourcing (ITO) and Business Process Outsourcing (BPO).
Contracts must be made with precaution and much emphasis should be given to patent-system strength. Companies under a strong patent system are comfortable to move work offshore as their work will remain their property. Offshore Software Development is one realm where both sides win!