Warehouse Management Systems (WMS) play a vital role in increasing efficiency across your organization by streamlining data reporting. Whereas, excessive inventory, unexpected shortages, lack of space, etc. are the common challenges that occur while managing a warehouse. Access to real-time data can help to remove blockages from your workflow and spot potential problems before they increase. If you really want to smoothly operate your processes then you should consider investing in an Advanced WMS.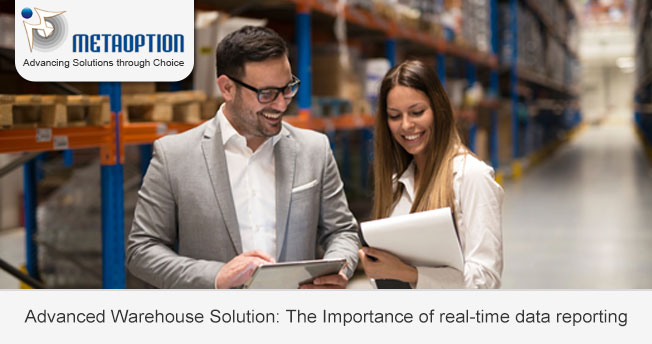 Luckily, when you have an advanced warehouse management system, you can successfully track your inventory and ensure all goods are stored, sorted, shipped, and tracked properly. 
Why do you need real-time data for warehouse management?
Having real-time data allows you to know what is working if everything is working smoothly, quickly, or not. This data can help you to find out pinpoint areas to improve. Whenever you do analysis, this can allow you to have a strong understanding of processes and influence current and future decisions. The decisions you make totally depend on the data you have.
How can you implement data reporting in a warehouse?
If you are actively looking for ways to implement data reporting in a warehouse, you have come to the right place. MetaWMS, an advanced warehouse management solution is designed to improve warehouse efficiencies by streamlining your warehouse operations, and processes. Also, you can hit the ground running with our in-built solution and quickly unlock the benefits of real-time data reporting for your organization.
Whereas, MetaWMS makes warehouses operate in real-time using handheld wireless barcode scanning terminals. Additionally, all warehouse operators are trained through workflow processes with the display on the device. The operator just has to follow instructions on the terminal to complete different tasks, such as stocking, scanning, picking, and packing. The equipment requires minimal training.
How does MetaWMS differ from competitors?
Compared to other warehouse management systems in the market, MetaWMS brings something new to the table. Here are some key benefits of the MetaWMS warehouse management solution:
Advances order accuracy
MetaWMS helps in advanced order accuracy. Knowing about the inventory in real-time, reduces errors, like selling an item online that is out of stock.
Inventory management in real-time
A warehouse management system often has real-time inventory tracking capabilities, which helps employees to know overall stock. Also, where it is located. Preferably, staff can see that future order needs to be located and do so in time to restock inventory.
Optimize stock levels
Knowing what your inventory looks like can also help you optimize stock levels. By doing this you can replenish items when required.
Waste reduction
Efficiency doing required Improvements in required stocks and management of these can also lead to benefits like reducing waste. For one, placing temperature-sensitive items away precisely and efficiently can help in reducing spoilage.
Save money
You can save money in several ways, reducing spoilage means less money spent on items that are not sold out. Reducing errors can also save money, such as by reducing shipping costs if you do not have to resend an order to a customer.
For more information and a tailored demonstration, contact us today at MetaOption.