Nowadays, most business organizations have been using some sort of document management. Either it is on paper, or online. While we at MetaOption have encouraged businesses to digitize documents for years, many businesses are just starting to move their Document Management System (DMS) into the cloud. Look why cloud-based document management systems are becoming so popular that they are the norm rather than the exception.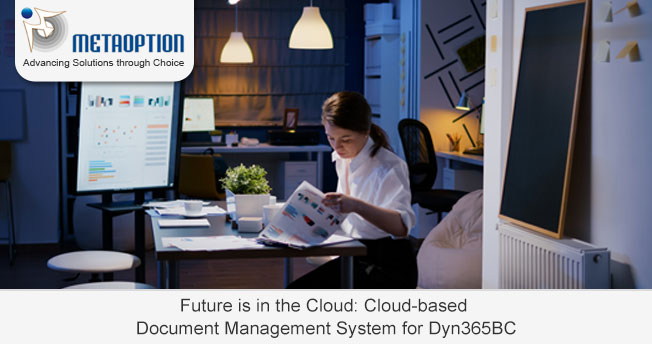 Benefits of cloud-based document management?
Managing documents and data into the cloud offers a variety of benefits which includes:
Robust Data Backup
With cloud-based DMS, every sort of data is backed up, ensuring that you will not lose any important information. This precious information helps your business organization to make better decisions and keep business moving.
Anywhere access
Remote web access is now anywhere access. Cloud services make it easier for both remote and in-person teams to collaborate and communicate. Access anywhere makes your organization more flexible in how it acquires and supports talent. In addition, anywhere access can simply help business processes to move faster.
Low maintenance cost
A cloud solution often implies low to no hardware costs, as well as automatic updates that keep systems up-to-date. This can be complete with the help of your IT team; an active IT team means a robust business, especially when it comes to business continuity.
Securing Sensitive Data
In addition to providing, backups and multiple availability zones for your data, cloud services often come with automatic updates and patches and likely have more staff loyalty to securing information i.e.,  stored or transferred to and from the cloud.
How to choose the best Cloud Document Management System?
I hope that it's now clear to you to move on cloud or not. If yes then the next question is which cloud document management system will be good for your business organization. Let me clear to you that not all cloud document management systems are created equal. Although there are no hard and fast rules, here are some factors you may want to consider while selecting:
Flexibility
Flexibility must be in both capability and costing, flexibility are the most important factor in the list of your needs. Industries can change in an instant, so it is necessary for your business to adapt as quickly as possible to disruptions and difficulties in the market.
Robust capability
Whether your Cloud DMS can manage a task on its own, or integrate with a platform that does. Be sure that either it is capable to handle your organization's current needs, and potential future initiatives or not.
With the integration of Business Central and Document Management System i.e., MetaDocs, you can streamline your business process into the cloud. In addition, it enables companies to reduce their carbon footprint, easily share files, and save time in document retrieval. It can minimize the need for specialized file-sharing infrastructure since file-sharing can be finished within Dynamics 365 Business Central.
With MetaDocs – Document Management System you will get the following features:
Drag & Drop from Outlook
MetaDocs enables users to Drag & Drop emails & attachments (Single or Multiple) from Outlook to any Microsoft Dynamics 365 Business Central record with a simple drag and drop. It can be done by:
Convert to PDF, messages, text, word, or Html
Create a zip of the email and attachments
Extract attachments on the fly
Perform Audits in Minutes
With Metadocs, you can collect all your data or information in a single repository, and compare reports on who accesses documents and when. This also helps managers so that they can prepare for audits in a short time with no pain.
Metadata for Document Management System
Metadata helps your business to track daily e-mails, invoices, receipts, and more by automatically archiving documents from Dynamics 365 Business Central such as invoices and quotations. Metadata is an invaluable tool for you to use. Here are the reasons why:
Effective document classification
Easier document searching
Streamlined data sharing
Improved Accountability
Access Permissions/ User Permissions
One of MetaDocs' greatest features is the capability to share documents with external individuals. This feature creates a private portal where external clients or business partners can have read-only access to your virtual file cabinet.
To share a document, a user simply selects one or more users that should have access to it.
The user checks off the documents, which the user or groups should have access.
When the external individual logs into the MetaDocs document management system, they present with the same interface as users, but they are only able to see their assigned documents and the rights assigned to them limit their actions to that document.
Accelerate OCR Functionality
With Optical Character Recognition, you can easily extract text from a scanned document such as a receipt, invoice, etc., and you can convert the scanned images into text files, searchable PDF files, or Microsoft Word files. OCR can be used for the following:
Converting text to speech
Converting PDF to word processor files for editing
Edit the size of PDF files
Create digital signatures
To add bookmarks and hyperlinks to PDF documents
For more information and a tailored demonstration, contact us today at MetaOption.