Manufacturers may simplify their Bill of Materials management process with the Dynamic 365 Business Central platform. Whereas, companies may create efficient BOMs that are adapted to their specific needs, allowing for more agile operations. Accurate and up-to-date BOMs are critical for efficient production, compliance with regulations and standards, and ensuring product quality. Managing the Bill of Materials, on the other hand, can be a difficult undertaking.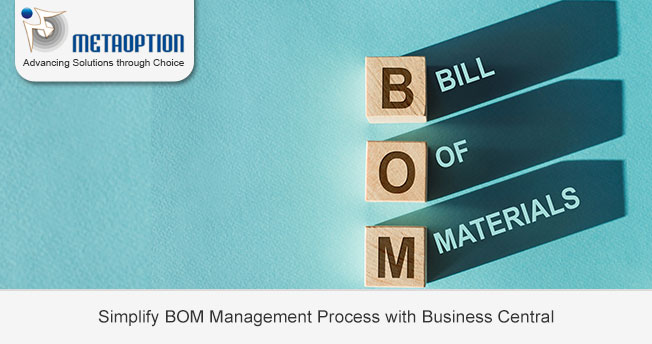 In this blog, we'll look at how using Dynamics 365 Business Central for Bill of Materials management can help you streamline your business operations and save time. We'll also go over the benefits of adopting BOM management software, as well as strategies for effective BOM management.
Challenges of Bill of Materials (BOM) Management
Manufacturers frequently have difficulties in managing their bills of materials (BOM). The following are some of the most common issues that producers face:
The requirement to produce and maintain various BOM versions
Updating and maintaining accurate data across numerous parts, assemblies, and components
ensuring a consistent view across many layers of the BOM
Keeping track of part inventory levels
Processing manual input mistakes and preventing bill inconsistencies
Understanding a complex BOM with a large number of components
Managing Outdated Components
Identifying a Modern ERP Platform for Manufacturers
Because of its comprehensive manufacturing and supply chain modules, modern ERP software, such as Microsoft Dynamics 365 Business Central, can optimize your manufacturing processes. Dynamics 365 Business Central, which is hosted in the cloud, is constantly updated and assists manufacturers in managing complicated BOMs. The following are some key features:
Business Central's centralized BOM data management ensures that all users and departments operate with the same information.
When goods are added, edited, or withdrawn from the system, Business Central may automatically update BOMs.
Version control in Business Central enables manufacturers to track changes, assess the impact of those changes, and report on them.
BOM cost management is an important feature that helps businesses to assess the cost of each component and make informed decisions about their products.
Inventories management capabilities in Business Central assist companies in tracking component availability and managing inventory.
Business Central connects you to suppliers and provides visibility throughout the supply chain.
We prefer Microsoft Dynamics 365 Business Central for manufacturers due to its capacity to handle industry-specific operations. The following are the primary features of Microsoft Dynamics 365 Business Central:
A dashboard that is personalized to the user's job role.
Accessibility options include online, mobile, and tablet.
The capacity to stretch and evolve with your company as it grows.
Create bills of materials and calculate standard costs.
For more information and a tailored demonstration contact us today at MetaOption.