One of the challenges of retailers is how to provide personalization at scale, without compromising efficient operation and growth. Shoppers have a limited amount of discretionary income and are picky about where they spend it. As a result, retailers must compete fiercely for wallet share. However, we are seeing fascinating technological advancements in the retail industry. Also, there has never been more technology in retail, with retail technology solutions having the ability to help attract and retain customers, allowing for long-term growth and profit.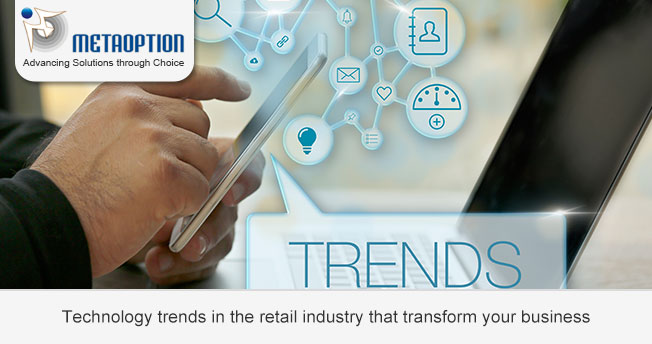 Top three key technology trends in the retail industry
Visualization
Engagement with AI – combining Virtual Reality (VR) and Augmented Reality (AR) tech in retail to enhance the shopping experience – is one of the most exciting technology trends in the retail business. Also, in the retail industry, AI innovation takes the shape of virtual dressing rooms, where customers may 'try on' clothing on a digital avatar of themselves. Or a digital mirror that 'applies' makeup to a computer image of their own face, or a photo of their home with new furniture 'installed' in it.
Selected collections
Retail technology solutions that use AI to learn customer preferences are being leveraged to provide customized product options. Every time a shopper makes a purchase, the retail IT solution learns more about them and improves the selection. Also, this digital technology in retail businesses offers a "personal shopper" service, which enhances the consumer experience and increases sales.
Insightful observations
Apps, e-commerce sites, loyalty programs, point of sale, and suppliers provide retailers with a lot of data. One of the ongoing IT developments in the retail industry is ever-smarter data mining, which converts this wealth of information into insights that can improve the consumer experience and generate operational economies. Automated retail data mining tools can forecast future customer behaviors and purchasing trends, allowing businesses to ensure they are ready to satisfy client requests while also optimizing inventories.
Why should retailers spend money on retail technology?
Retail has always been challenging, and now as the economy has reduced customers' spending power, there is even more rivalry for the shopping dollar. Businesses that spend to remain ahead of the curve and position themselves for the future will survive and thrive in difficult times. Shoppers know what they want, and retail technology is the only way to deliver it at scale. Also, those who invest now will be future survivors.
LS Central, a fully integrated retail management solution, eliminates the need for different stand-alone systems by consolidating your channels into a single consolidated database. LS Central is a unified commerce system developed by LS Retail. Also, it is a point-of-sale (POS), inventory, merchandising, CRM, e-commerce, and HQ back-office solution built on Microsoft Dynamics 365 Business Central.
Contact us today at MetaOption to know more about retail technology.