Everything has changed as we jump into the future.  All of that manual effort has been replaced by technology. Almost everyone now carries a massive amount of information in their hand. We need super speed and hyper-efficiency to stay up in this fast-paced future. With MetaWMS Mobile Warehouse Management provides total visibility into your warehouse inventory. It enables organizations to offer warehouse employees fully integrated mobile handheld devices and expect them to perform daily activities such as 1D/2D barcode scanning, receiving, Pick, Putaway, Bins, License Plates, shipping of goods, transfers, and others in a much faster and efficient manner.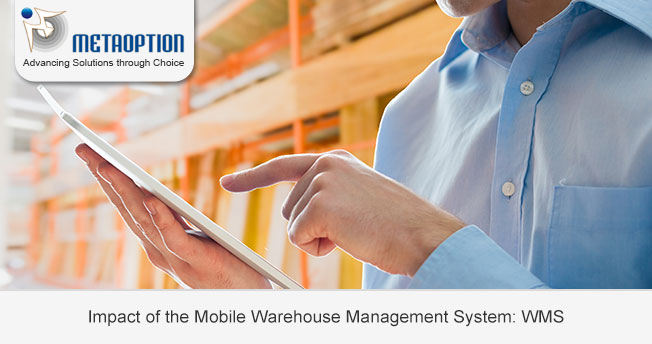 Impact of the Mobile Warehouse Management System
Reduce time and expense from training
Smartphones and tablets were created in heaven specifically for business use. Because so many individuals own them and use them frequently, there is virtually little training required. Most staff will be familiar with smartphones, so all you need to do is download the app and go.
Productivity
One of the most significant benefits of using a mobile WMS is that it is available anywhere, at any time, to anyone who needs it. Anybody, from the CEO to the stockroom clerk, can check on current inventory, monitor real-time activities, and make changes without having to return to a computer. Stock changes and revisions are handled instantly, and tracking order fulfillment and shipment is a breeze.
Phones are being transformed into handheld scanners
Phones with cameras function as handheld scanners, making receiving, tracking, and storing things simple and quick. Expensive equipment is not required.
Employee communication has improved
Employee communication is being improved. Anyone with a smartphone that is enabled can see updates, offer comments, send notes, and trade ideas.
Minimize the possibility of human error
Employee mistakes are becoming less common as communication improves. They are not required to guess. It's all on their phone, and if they have any questions, they can ask them.
Simple to update
Updates may be transmitted straight to the smartphone, ensuring that all employees who use them have the same information and capabilities. There is no need to write memos or remove equipment from the service to upgrade it.
You can finally relax a little when you have a communication center in the palm of your hand and can get real-time updates on what's going on with your goods. Having access to your whole WMS at any time gives you more freedom and opens the door to more opportunities to grow your income and profit.
To know more about Mobile Warehouse Management System contact us today at MetaOption.