Users can get the most recent version of the Power BI application from the Power BI site. Microsoft updates the Power BI application on a monthly basis with new features and enhancements. Users of Windows 10 can download Power BI Desktop from the Windows Store.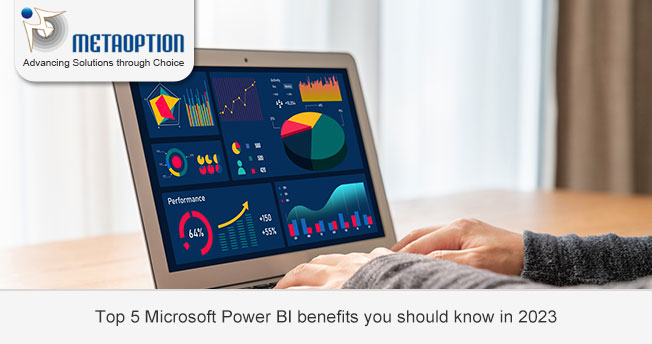 Everyone in the company can use Microsoft Power BI, which is its greatest strength. It does not require technical expertise and has an easy user interface (similar to Microsoft Excel). Additionally, this business intelligence tool is quite adaptable due to its ability to interact with data sources, whether it is a collection of cloud-based and on-premises hybrid data warehouses or an Excel spreadsheet.
Five Microsoft Power BI benefits
Deploying several dashboards with Power BI Apps
Businesses frequently require multiple Power BI dashboards and reports. The Power BI Apps allow Power BI Pro users to easily deploy a set of dashboards and reports that have been specially created and distributed to the entire organization or particular teams or departments.
Enables Analysis and Sharing of Big Data
Using Power BI with Azure allows you to handle massive amounts of data while also shortening the time it takes to gain insights, improving cooperation between business analysts, data engineers, and data scientists.
Latest release with new features
Microsoft provides monthly updates and a Power BI community forum where users can make suggestions. It listens to user requests and implements the most often requested features. It implies that users always have access to the most recent and advanced features, allowing them to make more informed business decisions.
No need for specialized technical support
Power BI is a platform for self-service business intelligence. It does not require technical or IT personnel to run, analyze, or generate reports. It also offers a natural language interface and employs user-friendly graphic design tools. The simple drag-and-drop capability allows you to easily design dashboards with a few mouse clicks. All of this makes Power BI incredibly user-friendly and accessible to anyone with little technical skills.
Integration with Excel
Hundreds of firms continue to rely on Excel for analytics and reporting. Power BI benefits businesses that choose to stick with Excel by allowing them to connect queries, data models, and reports to Power BI dashboards and build interactive visualizations with immediate access to the right data whenever needed.
For more information and a tailored demonstration contact us today at MetaOption.