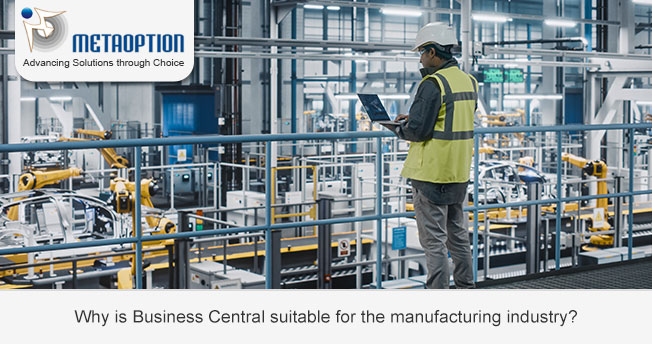 The manufacturing industry requires a robust ERP solution to help them deal with difficulties including pressure from global competitors, the effects of digital transformation, and an unpredictable market. Business Central Manufacturing software suite modules assist with:
Demand Forecasting
Capacity Planning
Agile Manufacturing
Production Planning and Scheduling
Production Bill of Materials
The solution assists manufacturers in modernizing their operations and managing complicated industrial processes efficiently. It's ideal for small enterprises that need help with back-end business operations.
What makes Business Central well-suited for the manufacturing industry?
It is important to choose a current business management solution capable of handling today's demands. Dynamics 365 Business Central helps in the growth of your company by reducing procedures and providing precise forecasting of customer requirements. This solution combines the productivity of Office 365 with the data connectivity and business insight of Power Platform, as well as the security of Microsoft Azure.
The following are some of the benefits of Microsoft Dynamics 365 Business Central Manufacturing:
Analysis of overhead production costs
Even in the most difficult of settings, Business Central adheres to the manufacturing process to the letter. It collects specific requirements in a bill of materials throughout assembly-to-order operations and extracts them directly from the quote and sales order. It also tracks consumption and output across several bills of materials and routes, reconciling scrap and output disparities.
Optimization of the supply chain
Improve supplier relationships and turn the best bids into purchases while adhering to internal and external regulations via process control and approvals. Business Central also provides an accurate inventory image, allowing you to plan for supply replenishment.
Boost your sales process
You can track client interactions and receive recommendations for the best upsell, cross-sell, and renewal possibilities throughout your sales cycle. Track client agreements in Business Central to gain quick access to information such as prices, discounts, delivery dates, product availability, and fulfillment status, leading to better cash management.
Adaptability and business development
Business Central can be adapted to any platform. It can be accessed via a laptop, tablet, or mobile device, on-premises or in the cloud, and on Windows, iOS, and Android devices. Furthermore, you may tailor your solution to your industry vertical by acquiring purpose-built extensions from the Microsoft App Source business application marketplace. You can also modify the software to match your own requirements.
Conclusion
By enabling robust project management, manufacturers may get visibility into processes, empower employees, boost business productivity, and provide personalized service.
Contact us today at MetaOption to know more about Dynamics 365 Business Central Manufacturing.