The capacity of a company to transform data into actionable insight for both itself and its customers is a crucial aspect of its ability to remain competitive. Organizations are attempting to make sense of their data as technology develops, and Power BI integration can help with that. Spend time viewing and analyzing the data to make wise business decisions rather than cleaning and assembling the data. You can easily connect, model, and visualize data with the Power BI platform, enabling you to generate customized and secure reports for your business.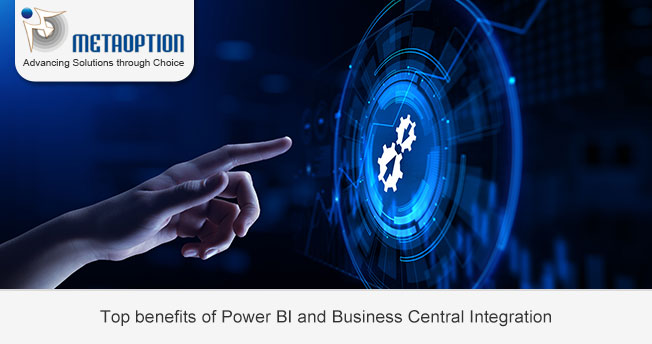 By combining Power BI and Business Central, you can effortlessly combine, analyze, visualize, and share data. Several software services, apps, and connectors collaborate to turn disparate data sources into visually immersive, interactive, and useful information. Who is Power BI useful for?
Analysts
Developers
End Users
IT Professionals
Business Central application is a comprehensive business management tool that integrates your organization's essential processes and centralizes your most critical data. While Business Central already has built-in reports to provide insights, combining it with a business intelligence solution may make it much more effective, allowing you to properly investigate your data.
Dynamics Business Central and Power BI are complimentary data visualization and analytics technologies. Integrating these two systems can greatly benefit your company:
Make wise choices.
To achieve a "big picture," you can extract and blend data from many sources within your organization. Because of the seamless connection of Business Central and Power BI, your data is transformed into valuable insights via interactive dashboards and rich visual reports. You can make better-informed judgments faster since it allows you to assess data from several sources.
Increased Productivity.
Because Power BI reports are embedded in Business Central, your users will be able to access reports more quickly without having to switch between systems. Furthermore, it can be viewed from any device and location, allowing your users to read or publish reports that are relevant to them in a secure manner.
Increased ROI
Dynamics Business Central is one of the Microsoft systems with which Power BI may communicate directly. Whereas, data and procedures can be easily integrated across systems. And it is also easier to handle from an IT administration standpoint. Because Power BI is included with your current Microsoft 365 subscription, you have no risk in checking it out. To begin, allow a select set of users to explore Power BI and connect to your Business Central data.
Conclusion
Spend less time obtaining data and more time visualizing data to make better-informed business decisions! Increase the value of your ERP solution by integrating Power BI as a reporting tool with Dynamics Business Central. Also, Power BI allows you to gain a better understanding of your whole business operation, allowing you to make more data-driven decisions that increase productivity, profitability, and business success.
For more information and a tailored demonstration contact us today at MetaOption.