You must have to rely on one or multi-carrier to deliver your goods, whether you store your retail or wholesale inventory in your own warehouses or use a 3PL company to fulfil and distribute the products of external clients. Shipping delays are caused by a variety of factors. Working with only one carrier was one of them. On the other hand, multi-carrier shipping with an Advanced Warehouse Management System (WMS) i.e., MetaWMS can streamline your fulfilment, manifesting, and shipping processes by integrating seamlessly with your transportation partners. MetaWMS is an advanced warehouse solution which helps you to effectively optimize warehouse processes.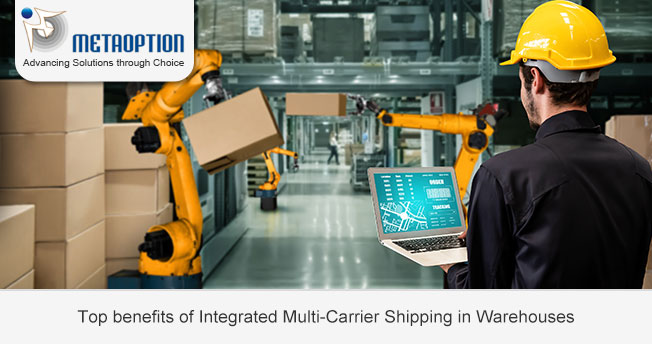 Benefits of integrated multi-carrier shipping
Lower Costs
Carrier integration reduces the need for manual data entry into each individual carrier website by automating your shipping procedures. As a result, your company can direct this personnel to other phases of the fulfilment process, saving a substantial amount of labour time.
The WMS's shipping management features also ensure that orders are sent at the most affordable price while remaining carrier compliant. As a result, it will help your company reduce shipping expenses while improving shipment trustworthiness.
Improve accuracy
By eliminating manual data entry, the risk of human error is greatly diminishes. Greater precision is the end outcome for all consignments. Additionally, avoiding data entry errors helps avoid wasting time, effort, and money due to late deliveries and returns.
Boost Performance
Today's consumers have very high standards. They desire specific delivery windows and quick turnaround times. Also, utilizing numerous carriers to meet these requirements is frequently necessary, and managing these various carriers' systems is not an easy task. By automating the procedure, fulfilment and shipment can be linked in a more streamlined, effective way.
Enhance your customer service
Customer complaints resulting from improper shipment information missed deliveries, or inaccurate tracking damage your company's reputation. Customers receive their products and have a positive shopping experience when shipping details are precise and tracking information is available.
You will get real-time access to the status and location of your deliveries with a fully carrier-integrated WMS. Your consumers will find this information quite useful! You may gain their confidence and loyalty by giving them this visibility and fulfilling their delivery expectations.
The right multi-carrier shipping software can effectively improve your business. This multi-carrier delivery method can reduce delays, which will raise customer satisfaction. Having said that, selecting the appropriate software is essential to making the solution effective for your company. For implementing Advanced Warehouse Management System i.e., MetaWMS in your organization and for more information and a tailored demonstration, contact us at MetaOption.