Upgrading from Dynamics NAV (formerly known as Navision) to Dynamics 365 Business Central can be a complex process, but with careful planning and execution, you can ensure a successful transition.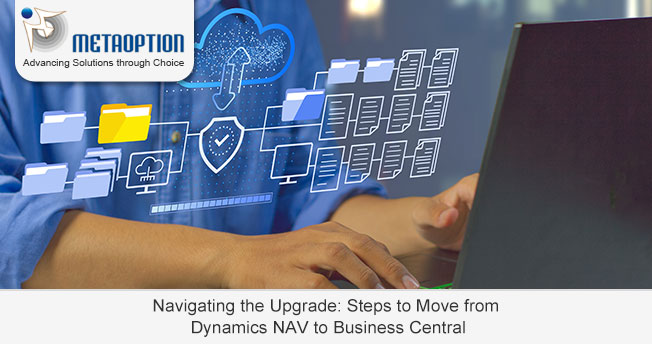 Steps to achieve a successful NAV to Business Central upgrade
Assessment and Planning:
Evaluate your current NAV environment, including the version you are using, customizations, and third-party integrations.
Determine the target version of Business Central you want to upgrade to.
Assess the hardware and software requirements for Business Central.
Identify the goals and objectives of the upgrade, such as improving efficiency, leveraging new features, or complying with regulatory changes.
Create a project team and assign roles and responsibilities.
Data Migration:
Identify the data you need to migrate, including master data, transactional data, and historical records.
Clean and sanitize data to ensure accuracy and consistency.
Develop a data migration strategy and tools for moving data from NAV to Business Central.
Test data migration processes thoroughly to minimize data quality issues during and after the upgrade.
Customization Assessment:
Review customizations and modifications made to your NAV system.
Identify which customizations are still needed in Business Central.
Consider using standard functionality and extensions available in Business Central to replace customizations where possible.
Plan and budget for redeveloping or adapting customizations to work in the new environment.
Third-Party Integrations:
Identify any third-party integrations with NAV and assess their compatibility with Business Central.
Work with third-party vendors to ensure they have compatible versions or updates available.
Plan to test and potentially reconfigure or redevelop integrations as needed.
Upgrade Testing:
Create a test environment that mirrors your production NAV system.
Test the upgrade process thoroughly in the test environment.
Verify that data migration, customizations, and integrations work as expected.
Conduct functional and performance testing to ensure the new system meets your business needs.
User Training:
Develop a training plan for end-users to familiarize them with the new Business Central interface and features.
Provide training sessions and resources to help users adapt to the changes.
Ensure that your team is comfortable with the new system before going live.
Go-Live and Post-Upgrade Support:
Plan a cutover date for the upgrade to go live, preferably during a low-activity period.
Monitor the system closely during and after the go-live to address any issues promptly.
Provide post-upgrade support to users and address any unforeseen issues or questions.
Documentation and Knowledge Sharing:
Document the upgrade process, including configurations and customizations.
Share knowledge with your team about the new features and functionalities available in Business Central.
Keep documentation up to date for future reference.
Backup and Rollback Plan:
Have a backup and rollback plan in case unexpected issues arise during the upgrade.
Ensure you can restore your previous NAV system if needed.
Continuous Improvement:
After the upgrade, monitor the performance of Business Central and gather feedback from users.
Continuously improve and optimize your Business Central implementation to maximize its value to your organization.
Winding Up: NAV to Business Central
Upgrading to Dynamics 365 Business Central is a significant undertaking, and it's crucial to plan and execute each step carefully to minimize disruption to your business operations and ensure a successful transition. Engaging with experienced consultants or partners who specialize in Dynamics 365 upgrades can also be beneficial.
For more information and a tailored demonstration contact us today at Metaoption.