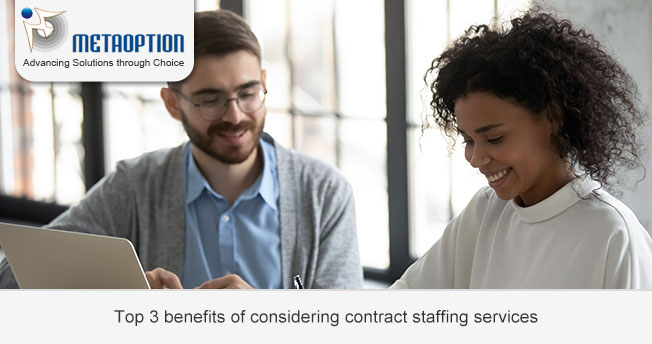 Contract staffing services have grown as a popular option and have the potential to alter current workplace aspects. It provides numerous advantages for both the employee and the employer. Contract staffing enters the picture when every firm wants to maximize productivity while minimizing expenditures. What makes contract staffing so popular and widely used is the flexibility it provides, right? Let's learn about contract staffing and its benefits.
Types of Contract Staffing
A contract staffing agency provides a variety of staffing contracts. Let us look at them one by one.
Part-time Contract
Fixed Term Contract
Agency Staff
Zero Hour Contract
Benefits of Contract Staffing Services
Are IT staffing agencies worthwhile? Yes, they have the potential to handle your hiring needs without your involvement. You save time and money as a consequence. Before signing any deal, an employer must conduct thorough research of the IT staffing contract agency in order to obtain unique staffing services.
Contract staffing services are affordable
When businesses partner with a contract staffing agency, they save money on administrative expenditures associated with in-house recruitment and other hiring processes. Furthermore, many contract workers are only paid for the time they work. Employers are not obligated to provide paid time off if they do not come in.
Obtain specialized skills
Working with a contract staffing firm provides you with access to specific capabilities that your project demands. It assists you in identifying niche talent with hands-on expertise in similar skills that you require for your project.
Furthermore, you may be looking for expertise that your current organization lacks. A contract staffing service will find you the ideal fit with a specific skill set to ensure your project is finished properly and on time.
Meet short-term business requirements
When firms need a dedicated labor force for short-term initiatives, hiring full-time employees is not a good idea. As a result, they choose outsourcing, which might pose security threats, loss of administrative control, and quality issues, among other issues.
Contract staffing firms can be extremely beneficial to organizations in this situation by providing a professional workforce for a limited time without taking on any duties and avoiding the pitfalls associated with outsourcing the team.
Dynamics Staffing
MetaOption's Microsoft Dynamics Staffing services enable your firm to respond fast, adaptable, and competently by providing you with the right personnel at the right time. MetaOption is a market leader in Microsoft technology and IT staffing services. Our dedicated Microsoft Solutions team has been developing resourcing solutions for Microsoft End Users and Partners for over 15 years. We will assist you in locating top-tier professionals when and when you need them as a specialist tech staffing agency.
For more information and a tailored demonstration contact us today at MetaOption.