Microsoft Dynamics NAV is being used by all business enterprises around the world today, the reason being that it is accessible, provides flexible setup options, cloud deployment capabilities and it also manages multi-currencies and multi-languages.
This business platform enables you to present your data from anywhere at any time. The data can be migrated to and from the Cloud whenever required. Export lists and reports to Word, Excel or as PDF files in this user-friendly and customizable environment.
With Microsoft Dynamics NAV, you can migrate data across diverse applications seamlessly. Make use of this improved functionality to present dynamic reports replete with graphs and charts.
Microsoft Dynamics NAV Migration Process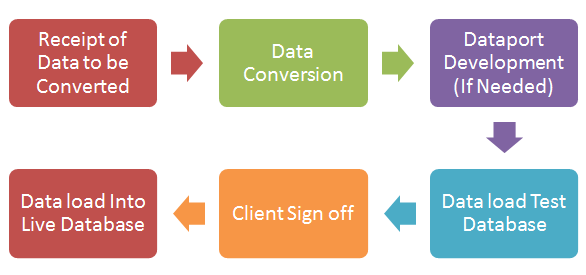 Data migration: An Essential Part of Upgrade Process
Whether it is about up gradation of customer data or up gradation of the application code, when a sizeable volume of data is to be migrated, it is advisable to optimize the data by compressing the ledger data and clear surplus data that is not being utilized in reporting. Add-on data such as payroll, etc., which are installed in database, must be migrated by using custom tools.
The migration of customer data into the new system is a tedious process, both for customer and partner. Planning and testing with proper backups is crucial as is the development team's experience, proper planning and risk management.
Microsoft Dynamics NAV Migration should be planned and tested very carefully. Also, the backup process should be repeated after each and every stage of the migration. Hence, it is very important to outsource the NAV Migration works to any experienced development company with skilful planning and risk management resources.
Data Migration in Dynamics NAV is performed twice during an upgrade:
Test Data Upgrade
Live Data Upgrade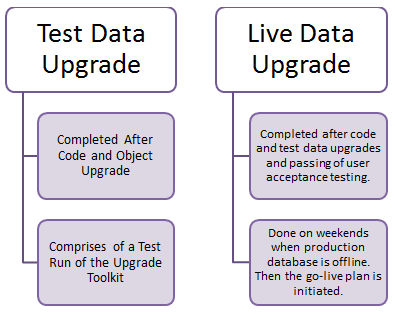 You have to gauge the fact whether the migration and related costs are useful for specific needs of your enterprise. Also, how much of the data needs to be migrated. Analyse the quality of data as well as the data structure and shun from migrating unnecessary data, focussing only on the relevant data that adds value.
Master data and transactional data qualify for data migration. The delivery steps are as follows:
Data list to be migrated is collected.
Data Migration is successfully completed after proper planning.
Data Migration Strategy Report is produced.
The process of object or code upgrade combines the old adapted and customized objects with the new version of these objects, such that any custom code gets easily transferred to the new Dynamics NAV version.
Data migration is a complex process. It requires running the Upgrade Toolkit in three steps:

Post data up gradation, the database has to be updated by the development team with new roles and permission sets. Microsoft Dynamics NAV Toolkit utilities are garnered from the same, after which it is removed from the database and the final object compilation is done.
With new cloud deployment options, it is time to upgrade from the traditional business models to the latest cloud based version of Microsoft Dynamics NAV!