Microsoft Dynamics NAV and Magento connector enable the client's information, sales orders, stock levels, payments, and shipment integration between the systems. As a result, it provides flexibility to manage multi-channel operations at a single place which helps in streamline business procedures and leads to more prominent customer satisfaction. So, by using Magento Dynamics NAV, organizations can diminish their operational expenses and increase profitability.
In addition, The Magento connector Add-On created by MetaOption is an innovative API (application program interface) that steadily synchronizes Magento with Microsoft Dynamics NAV. So, It gives a basic and consistent method for dealing with your Magento Community, and Professional or Enterprise store from within NAV, empowering you to expand the efficiency and productivity of your business which can help you to accelerate the growth of your business online.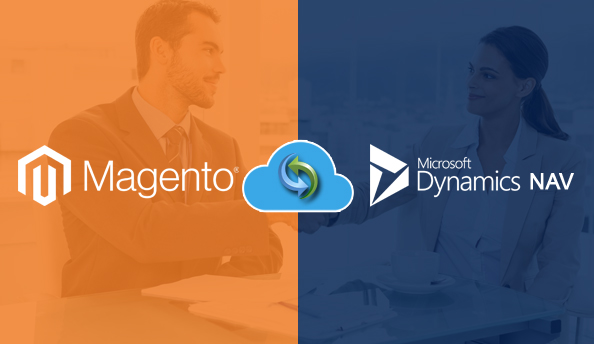 In other words, as orders come in through your Magento store, an integration platform will ensure that your orders are populated in your Microsoft Dynamics NAV ERP system, and your stock levels are balanced accordingly to reflect the sale. Shipping and tracking the information also can be integrated between these two systems to eliminate the necessity for manual data entry which increases the efficiency of your order fulfillment process.
Features of Dynamics NAV Magento Connector
Support for Recurring Orders, Order Cancellations & Refunds
Save valuable time and minimize errors with single data entry
Fully featured and customizable to your personal needs
Orders, customers & billing data synchronized automatically
Export of fulfillment and shipping info from Dynamics NAV to Magento automatically
Synchronization of product info from Dynamics NAV to Magento (Description, pricing, etc.)
Sync of Stock levels and billing info automatically
Benefits of Microsoft Dynamics NAV and Magento Integration
Product Management: It helps to avoid duplication of effort by maintaining all your product information in a single system.
Inventory Management: Manage stock levels without going out of stock or receiving orders you can't fulfill.
Customer Management: Import customers and contacts and automatically sync new customers, ensuring up-to-date data in both systems.
Customization Facility: Customization of the connector according to business needs enables faster adoption, which saves time but also empowers employees.
Saves Time & Money: A standard solution, customized to your needs, saves your money, and also saves a lot of time.
Scalability: By streamlining and automating your order fulfillment process, more orders can be processed with the same amount of resources. As a result, there is an incremental effort required to adopt new sales channels for information exchange.
Order and Return Management: It fulfills all of the orders centrally from Dynamics NAV by smoothly and continuously transferring orders between two systems.
Credit Limits: Allow your customers to purchase on credit by syncing information between Dynamics NAV and Magento.
Add connections: Add connections (EDI, CRM, etc.) anytime, anywhere
For more information and a tailored demonstration reach out to MetaOption LLC.