As time changes, your organization finds itself in the marketplace for a solution that can manage and scale a sales team that might just be busier than ever. Perhaps you find yourself looking at an ERP upgrade and thinking now might be the time to also look at a better toolset for the sales team. If you managed to narrow down your list, and it includes Microsoft Dynamics 365 Sales, you will find multiple offerings from Microsoft. Why so many? What do they all mean? And how do you decide what's best for your business?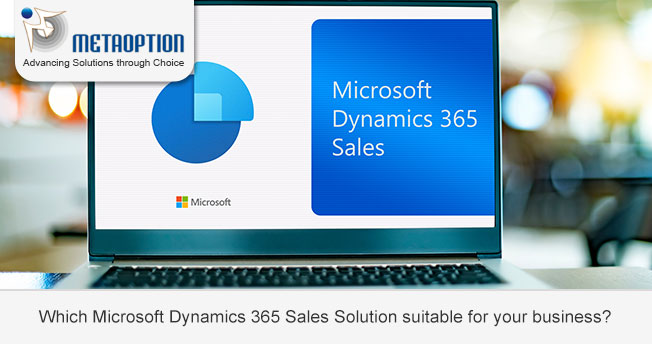 There are now four separate sales solutions that have been developed. These are Professional, Enterprise, Premium, and Relationship. How do you know which one you need?  Each offering fits different use-cases.
Let's take a look at which Dynamics 365 Sales Solution suitable for your business
Dynamics 365 Sales Professional
This solution is to come up with the basic sales capabilities for the businesses The application supports the lead and opportunity management, and there is a basic product, price list, quote, order, and invoice workflows you can use.
You can go for this module if you want fewer or no changes at all to the out-of-the-box software. This solution takes very little project time to set up but still gives your team base sales functionality. Businesses that are smaller in size, new to sales software, or who have limited sales feature needs will benefit from this solution.
Sales Enterprise
This solution contains key sales capabilities in Professional paired with a more customizable environment and more advanced and proven sales tools. These tools include sales goals, forecast management, and complex product hierarchies. The platform also leverages the latest and most excellent sales tools from Microsoft. Also, it allows custom tables, forms, and views, which are not there in the Professional module.
Businesses with more established sales teams will find Enterprise an easy tool to adopt. Additionally, it'll be a viable solution for businesses who are looking for upgrades, and feature enhancements. Whereas, Microsoft regularly releases new features as customers dream them up.
Sales Premium
While introducing Sales Premium, Microsoft has given customers an option that provides native Artificial Intelligence functionality. This will take your business a step further as it consists of features available within Enterprise and more by turning the data collected into a more meaningful sales experience.
Relationship Sales
Lastly, MS Relationship Sales come up with the abilities of Enterprise paired with LinkedIn Sales Navigator and is aimed at supporting the needs of your organization that grow via connections and relationships. It's just because you can plug Relationship Sales into LinkedIn so that you can improve lead generation.
For more information and a tailored demonstration contact us today at Metaoption.