Every industry has unique processes, challenges, and requirements. If your partner doesn't have your industry-specific knowledge you are probably overpaying by teaching them how to support you. The importance of industry expertise when it comes to supporting your technology investments is huge. From specific regulatory compliance reports to unique daily workflows, today's ERP and business applications are super flexible. That's why having a Microsoft support partner who understands your industry is essential.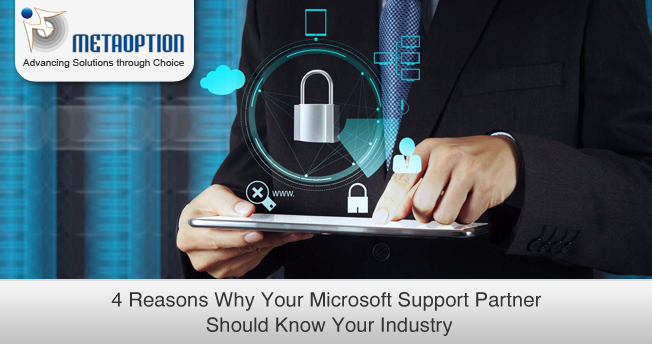 Whereas, MetaOption LLC is a Microsoft Certified Gold Partner and a leading ERP solution provider of Microsoft Technologies and Consulting services, help your business to innovate and grow by streamlining your finance, operations, customer service, and increase productivity with Microsoft Dynamics 365 Business Central/NAV, GP & AX), SharePoint, Power BI solutions.
Here are some reasons i.e., why your Microsoft Support Partner should know your industry:
1. Experience with Software Apps
Many partners specialize in support for one or two solutions, but the reality is that your business probably uses a variety of software applications from Microsoft and other vendors. Ideally, your partner should have proven experience with most of the applications you use. This is important not only for support but for other services like integrations. For example, here at MetaOption LLC, we specialize in these core Microsoft solutions and have experience with numerous industry applications:
Dynamics 365 for Sales, Dynamics 365 for Customer Service, Dynamics 365 Business Central, Dynamics 365 for Finance and Operations, Dynamics NAV, Dynamics GP, Dynamics AX
2. Business Analysis
What might not be important for one type of business is critical for another. For example, distribution has vastly different processes and priorities than an industry such as biotech. Having experts who have successfully optimized operations for your industry means you can depend on your partner for guidance beyond technology. You can cut through the clutter and design a solution that delivers impactful results.
3. Provide Industry-Specific Solution
Your Microsoft support partner shouldn't be learning how to deal with your problem while you're on the phone with them. When you need help, you want your partner to already know your business and software solutions so that they can resolve issues quickly and effectively. MetaOption LLC's support team has all senior-level solutions and industry experts.
4. Support & Services
The key to finding an exceptional support partner is thinking beyond a break-fix approach. For us, support encompasses many things from providing dedicated Customer Success Managers to full accountability with our Service Level Objectives and reports. Of course, we solve your immediate needs but are always working on your long-term success with insight and recommendations.
For more information and a tailored demonstration contact us at MetaOption.