Transfer of data from your current system to a new Microsoft Dynamics 365 solution like Business Central looks like an intimidating task. Most businesses want to upgrade from their current legacy system, but don't know the best way to integrate with an all-in-one solution.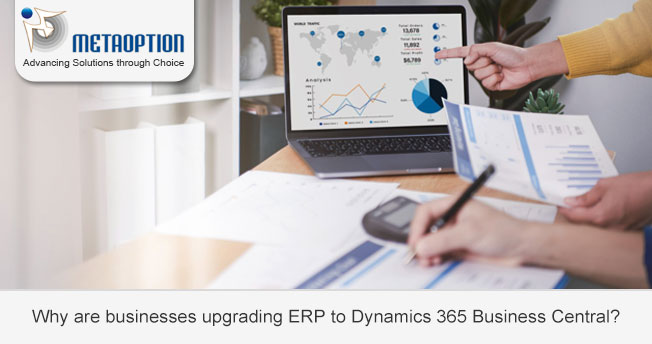 Drawbacks of a legacy ERP system
Many businesses often use the same ERP system for several years and initially see real benefits for their business. However, the quick advancement of technology (automation, transformation, AI, etc.) means their legacy system can't be trusted for persistent efficiency and success.
Why you should choose Dynamics 365 Business Central?
However, it's a big decision to move ERP solutions. Microsoft makes it as seamless as possible. With Microsoft Dynamics 365 Business Central, all of your business processes and people are unified into a single solution. Also, Business Central allows you to view your data or information anytime, anywhere, allowing quick and seamless integration company-wide.
Other features of Dynamics 365 Business Central to consider:
Rapid Deployment: Deploy solutions and onboard users in days or weeks, to update and drive business outcomes in less time.
Modular and purpose-built: Dynamics 365 Business Central provides business management across financials, sales, service, projects, warehousing, supply chain, and manufacturing in a single solution. It is also built using the only business cloud platform to bridge ERP and CRM with modular, purpose-built apps.
Generate continuous insights: Extraordinary insights from the most complete and integrated AI solutions drive better outcomes across every line of business.
Harness data everywhere: Connect to hundreds of data sources out-of-the-box, or easily create your own connectors, with seamless Office 365, Azure, LinkedIn, and third-party data sources.
Connected end-to-end: Only Dynamics 365 unifies customer and business data, relationships, and workflows on a single cohesive business cloud. Also, accelerate business growth with seamlessly connected, end-to-end business applications to optimize operations, empower cross-functional innovation, and better engage customers.
Excellent security and compliance: Protect and secure your business and customer data with identity protection, role-based access, encryption; and auditing and logging.
How MetaOption can help your business
MetaOption drives business growth by providing a flexible, industry-specific ERP system that works around the needs of our manufacturing, distribution, retail, and pharmaceutical industry.
For more information and a tailored demonstration, contact us today at MetaOption.