Many SMBs come to a point where they need a business software system that is able to help them track items such as sales, expenses, invoices and also allows them to accept payments. Both QuickBooks and Dynamics 365 Business Central are software solutions that provide accounting functionality for businesses. They each can provide the core functionality that is required to handle basic accounting in a small business. But beyond that, the two solutions are worlds apart.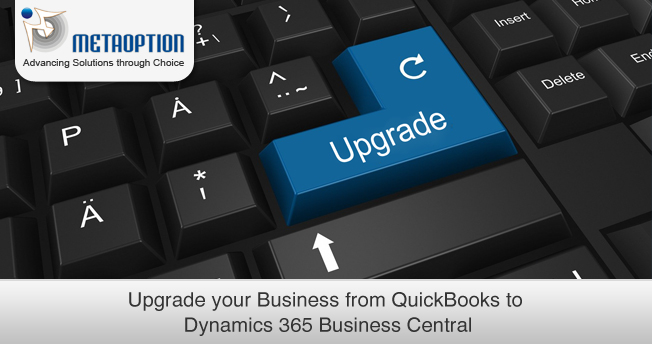 The initial selection of QuickBooks seemed so obvious, so natural, it was likely a very fast and easy decision. However, there comes a time when your business grows, and you need a more robust tool that will make managing your business much easier and streamlined.
"Don't feel surprised, or alone while finding yourself in this position today"
Numerous QuickBooks clients love their underlying decision, and just with time and experience, does the acknowledgment develop that possibly QuickBooks wasn't the most ideal decision all things considered. The simplicity and ease that QuickBooks offers can likewise be its shortcomings later on. Simplicity is revealed as an absence of refinement, and the simple set-up turns into an obligation once you understand that it also means few accounting and auditing controls.
After spending a couple of years with QuickBooks, you may recognize one or more of these issues with your own QuickBooks system:
Maximum records limit reached:
QuickBooks imposes limits on how many records the system can process and maintain in its archive.  There are limits on the number of employees, posted transactions, etc.  Once you reach those limits, your only choice is to start removing the history from QuickBooks.
Can't scale operations:
A growing business typically requires more people, more productivity, and more collaboration across all departments to keep up with demand.  As you expand product lines and enter new markets, your business processes become more complex with basic accounting software like invoicing and month-end closing can take hours.
Unable to meet customer expectations:
If you don't have the right system in place to track customer interactions and forecast demand, and those systems don't talk to each other, you may find yourself unable to meet customer expectations. To compete in an increasingly completive global economy, you need a well-tuned supply chain and the ability to manage customer and vendor requirements.
QuickBooks may have been the best choice available at the time, but the market has grown, and QuickBooks no longer has a monopoly on being easy to use and set up. Dyn365BC offers the same ease of use, access, and quick familiarity to your users, but adds in a robust system that can handle all of your future growth, with no artificial limits on the number of records. The database itself is secured, with no direct access, so no more changes under the covers. Also, Banks, Auditors, and regulators will all have greater confidence in your statements and reports, knowing that the data cannot be altered behind the scenes.
Upgrade your QB system with confidence with a move to the cloud-based Dyn365BC. Here's the following comparison between QuickBooks vs. Dynamics 365 Business Central.
QuickBooks Weaknesses:
Lacks depth of capabilities within purchasing, inventory, manufacturing distribution, audit control, advanced reporting. Adding capabilities and service offerings from QuickBooks' partners is expensive.
Companies can quickly outgrow QuickBooks' (QB) user and transaction limits, as well as its limited reporting capabilities.
Minimal business productivity integration skews the solution to accountants, not business owners.
QuickBooks Pro and QB Enterprise are built on different platforms than QuickBooks Online so upgrading is not seamless.
Dynamics 365 Strengths:
Dynamics 365 Business Central is a comprehensive solution with advanced capabilities that handle more complex business processes with secure workflows and improve compliance.
Business Central is built on the Microsoft Azure platform with the ability to scale to support growing transaction volumes and more users. Includes a web-based reporting portal with extensive reporting capabilities.
Deep integration with Office helps enhance productivity and usability for users.
The shared codebase between Business Central and Dynamics NAV ensures complete consistency and ease of transition for users between on-premise and cloud versions.
Learn how the customizable features provided by Dynamics 365 Business Central can accommodate your ERP expectations.
For more information and a tailored demonstration contact us at MetaOption.