The aspect of central standards keeps rapidly evolving for the businesses that deal with government contracts and produces misunderstandings and indistinctness about following industry guidelines. Such indistinctness exposes the weaknesses of the companies. If your government contracting business doesn't fulfill the important compliance terms, there is no future to stand out in this highly competitive market.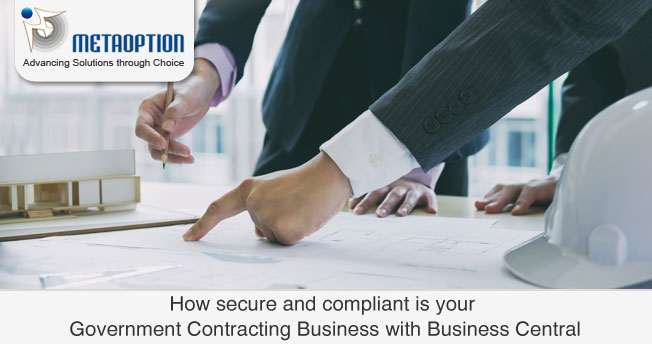 Ways to makes your government contracting business secure, ready, and complied
Use an ERP system to record sensitive information
Conduct your business with the Department of Defense (DOD)
Deploy your ERP on Cloud
Relates your work with crucial classified data such as CUI, DFARS, and FCI provisions
Let's take a descriptive look at these ways to secure your government contracting business:
Use an ERP system to record sensitive information
Do you use an ERP system to record sensitive information? If not then you should go for this because the regulatory requirements and standards need to refer as well if you use an ERP to store such information as this enables a safe degree of CMMC health. It is also difficult to conduct internal level tests of your procedures and controls to check how far you are satisfying the CMMC terms.
Conduct your business with the Department of Defense (DOD)
Most of the businesses are often don't know or sometimes unclear about the subject of their business conduction as a government contractor. Though, suppose you are clear on being associated with the Defense Department (DOD). In that case, it is highly recommendable to start preparing for the forthcoming CMMC requirements, though its importance might not be imminent to you right now.
Deploy your ERP on Cloud
Globally businesses are increasingly accepting cloud-centric deployments today. If you are on the same page, make sure that the relevant CMMC provisions and FedRAMP controls are being fully addresses the requirements. All cloud services holding federal data require FedRAMP authorization. Therefore, if you want to work with the federal government, FedRAMP authorization is an important part of your security plan.
Relates your work with crucial classified data such as Controlled Unclassified Information, Defense Federal Acquisition Regulation Supplement, or Federal Contract Information provisions
Cyber-security compliance is running on to become one of the biggest concerns of government contracting businesses and for all the right reasons. It includes increasing cyber threats and anonymous invasions leading to data theft and other fiscal losses. Irrespective of whether you are working with classified information, it becomes critical to starting laying the ground right away for CMMC requirements since you are already associated with the Department of Defense.
MetaPro, a leading solution for Government Contracting Business can help to secure your business while taking care of government compliances with the integration of Dynamics 365 Business Central.  It is simple to adapt and use, assists you in business collaborations, and lets you make smart decisions.
To know more about how MetaPro can be a reliable solution to formulate security strategy while taking care of compliances. Contact us today at MetaOption.