What is the importance of the supply chain in the pharma manufacturing industry? And, how uniformly you can manage the supply chain in the manufacturing industry? An ineffective supply chain could disrupt the healing processes of patients and produce negative effects on public health. As your company's success depends on you choosing the proper ERP. Without it, you'll face difficulties to comply with all applicable rules. Or furthermore, you will not be able to maintain the degree of efficiency required to make a profit in a pharmaceutical industry where margins are barely achieved.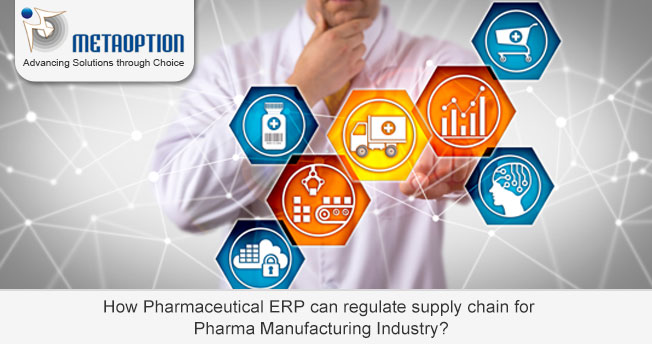 But to achieve that, the pharma manufacturers have to deal with their own set of supply chain challenges, including supply chain visibility, drug counterfeiting, and cold-chain shipping, among others. These challenges are complicated and can have economic, social, and even legal considerations.
Look how pharmaceutical ERP can regulate the supply chain in the manufacturing industry
Through Demand and Planning
Using a Pharmaceutical ERP, manufacturers can automatically create demand when orders are received, determining the quantities of material or item required and ensuring timely refill. Its MPS & MRP module come in accessible, helping them in when and how much is to be produced. Also, helps in forecasting the required material to meet the schedule effectively.
Through Purchasing, Material, & Supplier Management
A pharma ERP in pharmaceutical manufacturing industries provides a more effective way to regulate procurement and supply of the raw materials, services, and other required resources across the supply chain process. It allows manufacturers to identify their key suppliers quickly. Also, it provides a platform to calculate their risks as well as the ability to meet essential supply requirements timely while maintaining the right quality standards.
This calculation helps them to avoid sudden disruptions in the supply chain, like the one caused during the pandemic.
Through Monitoring and Maintenance of Supply Chain in the Manufacturing Industry
The capability of monitoring, reviewing, and modifying supply chain efforts and activities in real-time is essential for ensuring your pharmaceutical manufacturing industry. So that they are able to maintain the flexibility needed to stay competitive and ensure a cost-effective supply chain.
Through Measurement and Assessment
Regulating a pharma supply chain using multiple disparate systems and workflow processes is difficult. Which makes it impossible for the pharma manufacturers to compare actual activity against projected goals and targets. But with Pharma ERP, everything is arranged in an organized way to get things done that ensures any variances throughout the supply chain are quickly identified and resolved.
Through Managing Shipment
Pharmaceutical ERP instantly generates an invoice that is to be sent to the customer asap the item gets shipped. Additionally, it helps in maintaining a central repository for all the shipments along with the delivery details. It helps to ensure the timely delivery of the products.
For example, some essential drugs, such as vaccines, are temperature-sensitive. And hence required to be moved through the supply chain with necessary precautions. An ERP, when integrated with cold chain management tools, ensures the temperatures are monitored in real-time and kept in the defined tolerance range to keep the vaccines effective, safe, and secure for the consumers. Also, timely delivery of the vaccines fulfills the needs.
For more information and a tailored demonstration contact us today at MetaOption.