In today's changing scenario, the Pharma industry faces many challenges compared to other industries. The Pharmaceutical ERP system for Pharmaceutical Industry is the best method to recognize and track every single raw material from receipt through processing, bundling, and shipping, to the specific client location.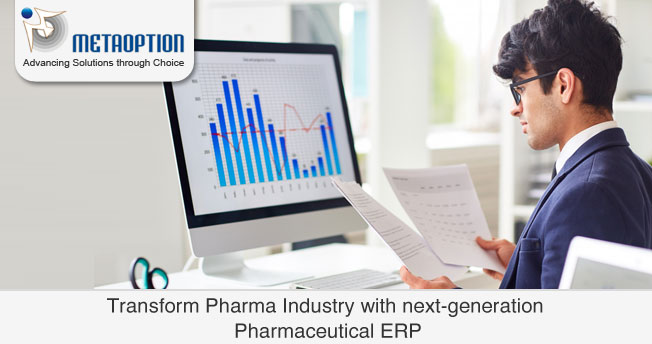 Meta-Pharma solution for Pharmaceuticals offers a complete integrated ERP solution built on Microsoft Dynamics 365 Business Central designed specifically for the Pharma industry. It can easily track lot properties while streamlining and improving other business measures like batch production, sales capacities, inventory control, purchasing, quality affirmation, accounting and account, regulatory reporting, and so on.
The need for industry-specific technology for Pharmaceutical Business
Pharmaceutical ERP solution complies with GMP guidelines in order to improve productivity in compliance with regulatory requirements and allow you to:
Have a complete view of all the business processes
Improved Batch Process Management
Ensuring Quality Control
Compliance with all regulations
Access to detailed information on supplies in order to manage effectively deliveries
Increase flexibility and productivity during processes
Improve Supply Chain efficiency and Distribution
Top three benefits of ERP for Pharma Industry
Formulation and Pre-Formulation
Reasonably, there are strict regulations that govern the drug manufacturing process. This includes guidelines around how employees should formulate and monitor raw materials, as well as how they should handle finished product yields to produce a batch.
In the pre-formulation stage, employees must follow rigid processes that include:
Defining drug production procedures
Scheduling drug production stages
Measuring drug production quantities
With an ERP system in place, pharma companies can automatically manage these formulations, while having confidence that the margin of error is minimal. Moreover, they can do so without keeping constant watch overproductions, which optimizes productivity across the board.
Drug Product Costing
Many different factors go into assigning a cost to a drug product. Among other considerations, companies must calculate the expenses associated with:
Procuring materials
Managing raw materials
Monitoring the supply chain
Track and Traceability of Inventory
It has always been important for pharmaceutical manufacturers to ensure proper management of stock or inventory. The recent pandemic situation underscored this concern with several factors. Also, with the implementation of ERP, pharmaceutical manufacturers can track and trace products in real-time. They can also use serialization to manage inventory and avoid time-consuming blockages and most importantly, they potentially overwhelm stock-outs.
For more information and a tailored demonstration of next-generation Pharmaceutical ERP contact us today at MetaOption.