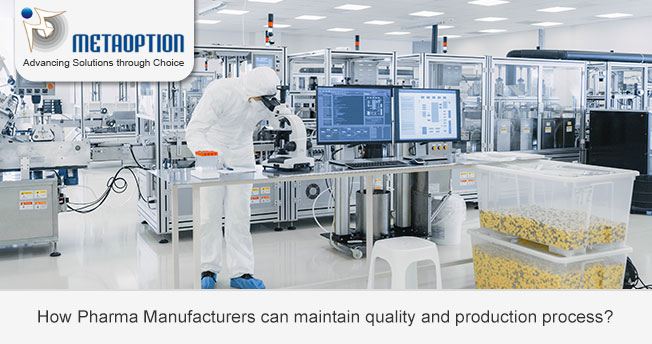 Increasing competition, changing regulatory requirements, disruptive technologies, and various other factors are pushing pharmaceutical manufacturers to fast-track innovation to boost their productivity and product quality. Also, the manufacturers need to ensure that rigorous regulatory compliance protocols are being maintained. You can manage product quality and quantity while following compliances by implementing a Pharma ERP.
An ERP in the pharmaceutical industry helps pharmaceutical manufacturers to indulge in intelligent demand assessment, quality management, production planning and control, and prudent financial management. Another benefit of Pharma ERP is for the manufacturing process which helps them to streamline their operations and get their products to market more rapidly and more cost-efficiently while following regulatory compliance.
How pharmaceutical manufacturers efficiently manage rapid production while following quality requirements
By having an ERP-QMS all in one place
For any pharma manufacturing enterprise, the majority of challenges, including those related to managing the production processes and quality systems, either from over-reliance on manual processes and data exchange, or a lack of integration and cooperation between the disparate ERP Software, and Quality Management System.
This integration between ERP and QMS offers a way to better collaboration between quality, and manufacturing. It basically:
Protects data integrity
Define Quality Control tests, inspection plans, and checklists
Maintain and regulate compliance
Expands the life of the equipment
Streamlines operation workflows
Protects data integrity
The integration between the QMS and ERP increases efficiency and reliability in quality control. The combination of the two systems working at a time makes initial results available during the production process, and reports and compliance documentation as soon as a batch is complete. The electronic storage of data reduces the possibility of errors.
Furthermore, if the recorded production data goes outside the predictable range, QMS receives an automatic alert. And if the systems are cloud-based, all the stakeholders get access to the most up-to-date data.
Define Quality Control tests, inspection plans, and checklists
By having a cloud ERP software in place, pharmaceutical manufacturers can define the inspection plans based on the inspection checklists. This way, they can have a tool to determine what to inspect, how and when to inspect, and a basis for inspection. Also, it allows the formation and storage of QC tests in its labs. Here the limits for each QC test for a specified item or item group can be defined.
Maintain and regulate compliance
The integration of an ERP and a QMS system help manufacturers. So that they can meet regulations such as FDA 21 CFR Part 11, and also the requirements of cGMP. The structure of these two systems enables manufacturers to meet compliance requirements more easily and efficiently.
Expands the life of the equipment
To ensure effective quality in the pharmaceutical industry, alongside managing the quick production processes, pharma manufacturers need to ensure that the production processes run without any interruptions. By having a pharmaceutical ERP system in place manufacturers can have an effective predictive maintenance program in action. It allows them to know when equipment needs maintenance work so that the production batches can be schedule accordingly.
Streamlines operation workflows
From the time when pharma manufacturing involves batch manufacturing, the risks are higher.  A single error can ruin an entire batch, resulting in significant loss of money, time, raw materials, and sometimes, even in fines, lawsuits, and damaged reputation. Effective batch control that an ERP provides is essential for the same, which allows manufacturers to easily control the process and optimize production.
Take the next step
Meta-Pharma,  ERP systems that incorporate cutting-edge technology and can be used by pharmaceutical manufacturers throughout the manufacturing process while efficiently meeting the quality requirements, and managing pharma quality assurance, quality control, and other aspects of quality management.
For more information and a tailored demonstration contact us today at MetaOption.