Every business looks for an exceptional document management system to grow their business fluently. As they are tired of sifting through filing cabinets, desk drawers, and office storage rooms to find the documents they're looking for. The trend towards a paperless office is now more important than ever, and a document management system is the best way to get there.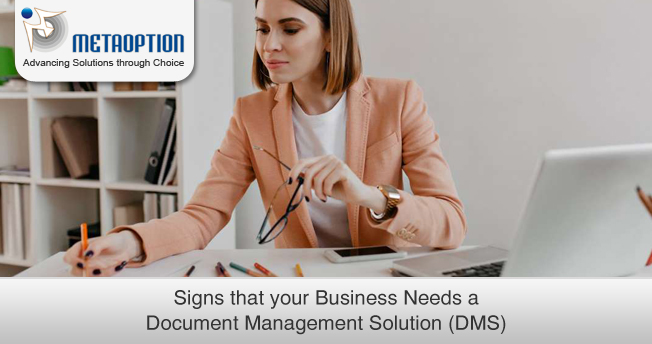 Whether you're a large corporation with thousands of physical documents or a small business looking to improve your document retrieval process, a document management system can help you achieve your organizational goals. With the integration of Business Central and Document Management Solution i.e., MetaDocs, you can streamline your business process. Also, it enables companies to reduce their carbon footprint, easily share files, and save time in document retrieval. It can minimize the need for specialized file-sharing infrastructure since file-sharing can be done within Dynamics 365 Business Central.
But before we begin, here's a short overview of DMS:
What is a Document Management System (DMS)?
Before identifying which DMS is right for you, firstly it's important to understand what a document management system is and what it can mean for your business organization. DMS is a digital file cabinet that allows for safe storage and retrieval of all of your business's important documents. Also, it allows your business to control and organize your documents efficiently. Additionally, you can get some benefits, such as indexing content, running reports, and keeping documents secure.
Here are some signs that show why your business needs a Document Management Solution (DMS)
Having a lot of Duplicate Paperwork
Unable to Drag and Drop from Outlook
Facing difficulty while Tracking the Flow of Information
A significant amount of Manual Work required for Document Capture
The system does not support Integration of Databases with other Applications
Lack of Workflow Automation
With MetaDocs – Document Management Solution you'll get the following DMS Services:
Drag & Drop from Outlook – It enables users to Drag & Drop Email & Attachments (Single or Multiple) From Outlook to any Microsoft Dynamics NAV record with a simple drag and drop.
Metadata for Document Management System – It helps your business to track daily e-mails, invoices, receipts, and more by automatically archiving documents from Business Central such as invoices and quotations. You can also easily store external documents such as e-mails, images, and correspondence with customers and suppliers.
Automate Processes with Document Workflow – It automates document-based business processes using document workflow to manage the flow of information electronically.
Accelerate OCR Functionality – With Optical Character Recognition (OCR) you can easily extract text from a scanned document such as a receipt, invoice, etc., and you can convert the scanned images into text files, searchable PDF files, or Microsoft Word files.
Customization & Development –
Different businesses have different needs for a DMS solution. Every business has its own specifics requirements that need to be taken into consideration. MetaDocs comes with fully customizable features to help its customers solve business problems that are unique to their industry.
Create customized Windows and Records
Generate Custom Fields and Reports
Add custom Document Attributes
Describe custom workflow
For more information and a tailored demonstration contact us today at MetaOption.