To ensure timely and effective operations, any restaurant must simplify purchase and vendor management. To successfully run their business, restaurants must be able to effectively manage their inventory, purchase orders, invoices, and payments. Manual procedures, however, can be laborious and prone to mistakes. LS Central, Retail Management Solution can help with that. In this blog, we'll examine how a Retail ERP helps restaurants streamline their vendor management and purchasing processes.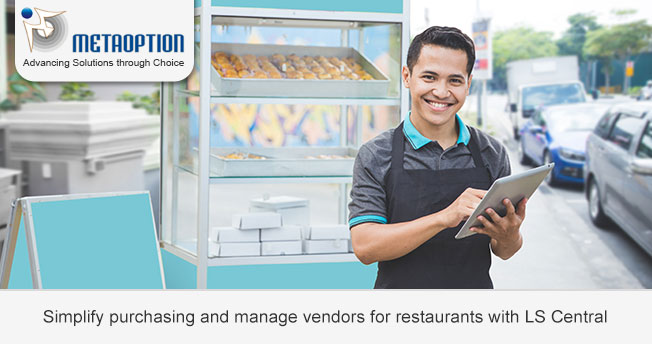 Restaurants can effectively manage their vendors' thanks to the comprehensive system provided by LS Central. The following are some of the main LS Central functions that support vendor management:
How does LS Central assist with vendor management and purchasing?
Automated Purchase Orders
Restaurants can use LS Central to automate the creation of purchase orders based on stock levels, projected sales, and previous data. This enables restaurants to guarantee they always have the appropriate stock.
Automated Ordering
With its automated ordering feature, LS Central reduces the possibility of mistakes and discrepancies by doing away with manual ordering procedures. Additionally, it can create vendor invoices automatically, streamlining the entire procurement procedure.
Centralized Purchasing
Restaurants can use centralized procurement to streamline their supply chain management and ensure that they have the right products at the right time, all while avoiding stockouts.
Better Vendor Management
LS Central makes it easier for restaurants to manage their vendors. The system can save vendor information such as contact information, pricing, and order history. This assists restaurant owners and managers in keeping track of their vendors and maintaining positive relationships with them.
Vendor Management
It offers a complete vendor management system that enables restaurants to manage their vendors, track vendor performance, and negotiate better deals.
Goods Receiving
It enables restaurants to quickly and easily receive goods against purchase orders. It provides real-time visibility into inventory levels, assisting restaurants in effectively managing their stock.
Tracking Vendor Performance
LS Central allows restaurants to track vendor performance based on delivery times, product quality, and pricing. This assists restaurants in identifying the best vendors and negotiating better deals.
Vendor Portal
LS Central includes a vendor portal where vendors can view their orders, invoices, and payment status. This improves communication and collaboration between restaurants and their vendors.
Vendor Compliance
LS Central ERP assists restaurants in ensuring that their vendors meet their quality standards, food safety regulations, and other requirements.
Payment Processing
LS Central ERP automates the payment process, allowing restaurants to pay their vendors on time and effectively manage their cash flow.
Conclusion
LS Central is a must-have tool for any restaurant looking to improve its purchasing and vendor management processes. Also, restaurants can reduce the time and effort required to manage their supply chain, minimize errors, and improve efficiency by automating these processes. Restaurants can concentrate on what they do best with LS Central by providing excellent food and service to their customers.
For more information and a tailored demonstration contact us today at MetaOption.