An end-to-end retail POS solution that includes the integrated and innovative features that today's retailers require. With LS Central, retailers can gain more significant business insights, optimize merchandising decisions, and scale in size and business using a unified retail solution architecture. LS Central is designed to suit the expectations of any retail business, whether it is clothes and fashion, furniture, food and groceries, supermarket, or e-commerce. Whereas, LS Central is an extensive and powerful solution for the hospitality business that will reshape your fine dining, fast delivery, bakery, cafeteria, or bar by streamlining operations, ensuring order accuracy, providing a great customer experience, and adapting to industry changes.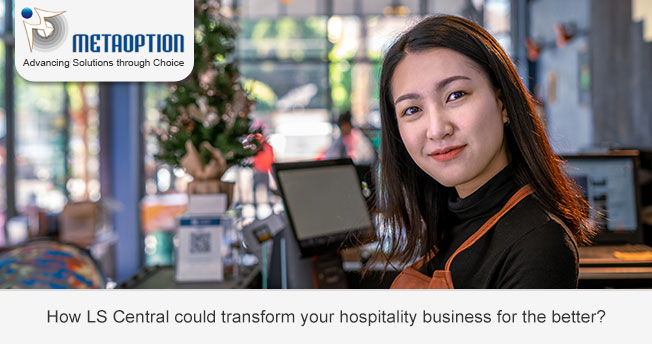 Ways LS Central helps to transform the hospitality business
Accelerate the check-in/out process
A robust software solution, such as LS Central, assists hotels in streamlining the check-in/out process. When guests come and depart, the hotel can recognize who they are and allow them to check in and out online, via their mobile device, or at the front desk – quickly, smoothly, and without difficulty.
Remove barriers to payments
Customers want to use self-service technology during their stay and want everything to be as frictionless as possible, including self-check-in, online service booking, and contactless payments. In addition to increasing happiness, a smooth and transparent payment process can open up new options for upselling and increasing revenue throughout each visitor's stay.
Invoice automation
In addition to seamless payments, hotels want the ability to generate, issue, and process invoices for various properties and departments. Also, to guarantee that invoices are automatically sent to the appropriate revenue streams, the ERP system must connect seamlessly with the property management system (PMS) and point of sale (POS). Having all systems in one place helps to eliminate human errors and saves time.
Make your restaurant's experience consistent.
With LS Central, you have all the tools to manage your hotel, restaurants, catering, and food preparation services in one spot. Allow your guests to order online or make reservations at any POS throughout the hotel. And in the restaurant, you can take advantage of the system's extensive industry functionality. It includes the Kitchen Display System (KDS), which automatically takes orders from the restaurant floor and displays them on a screen in the kitchen, allows you to control table occupancy, split or relocate invoices, and expedite service.
With LS Central for hotels, you can manage every aspect of your hospitality business on a single platform without worrying about inconsistent data, departmental silos, or unexpected events. To request a demo and learn more, contact us today at MetaOption.