Contactless ordering systems have altered how restaurants handle traditional customer service. Where servers used to stand with notebooks and pens in hand, digital kiosks, smartphone apps, and QR codes now stand in their place. For decades, the restaurant business has been pushing for more technology-driven experiences, but there has been a noticeable increase in the last few years. With rising customer demand for speed and convenience when dining out, many restaurants, particularly quick-service and fast-casual establishments, have used contactless technologies.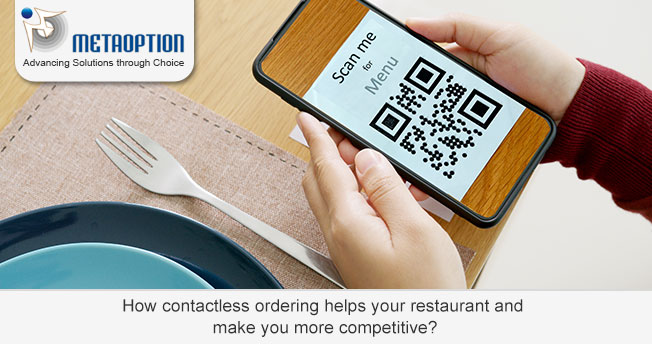 Three ways how contactless ordering can help your restaurant business
But what are the long-term advantages of this technology, and why should you think about embracing contactless in your restaurant? Here are three ways that contactless ordering might help your business and make it more competitive in today's market.
Improved order accuracy and acceleration
If your company still relies on handwritten or manual ordering, many forms of errors may occur on a regular basis. The problem is that they prohibit your restaurant from providing excellent service and attracting repeat customers.
Contactless solutions will help your restaurant run more efficiently. Customers can submit their own orders and select their meal preferences with whatever alterations are permitted, with their order being sent to the kitchen as soon as they confirm.
Increased table turnover
Nothing beats a busy restaurant full of customers. But what happens when the wait to be seat-ed exceeds thirty minutes or even an hour? Potential customers may abandon their purchase and go elsewhere.
However, the shorter a restaurant's wait time, the more revenue it generates. Placing a QR code on the table or having a tablet handy allows your clients to order and pay as soon as feasible. You will not only reduce long wait times, but you will also increase the number of consumers you service per day.
Increased client spending
As per research, clients are more likely to place large meal orders online rather than in person. According to Business Insider, clients are sometimes ashamed to explain long and sophisticated orders to a real person, forcing them to cut down on what they want out of fear of being judged.
Contactless ordering technology allows them to add anything they want without reluctance. Customers are more likely to make spontaneous selections when all options are present in an easily accessible manner. And the more people order, the more profit your restaurant will make.
Keeping pace with the times
To be competitive in the restaurant market, you must adapt to changing consumer needs, which involves implementing the newest and most efficient technologies. Contactless ordering is here to stay, and its footprint across the food and beverage spectrum will expand as more businesses recognize the benefits.
However, once you've made the decision, investing in the right software solution for contactless ordering technology is key to seeing results.
If you use unified commerce software, such as LS Central, you can ensure that the contactless technology you introduce is all integrated and can be managed centrally in one location. Whether you choose to use kiosks, QR codes, tablets, or a combination of the three, all customer touchpoints will interact fluidly within the same POS system. No need to worry about installing different software and overcomplicating things.  We make it simple. Furthermore, by incorporating contactless ordering into your restaurant, you will improve its operation and attract more consumers.
For more information and a customized demonstration of LS Central, contact us today at MetaOption.