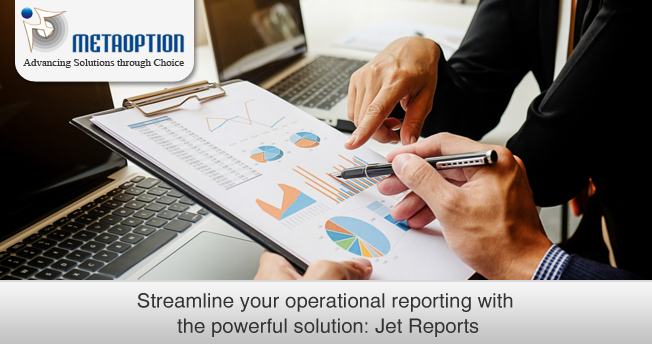 Many successful business organizations make data-informed decisions. But what happens if data is inaccurate, inaccessible, or in a format that makes business analysis difficult for the average business user. As a Microsoft Gold Partner, MetaOption offers companies that use Microsoft Dyn365BC a better way forward, a way to streamline their operational reporting with powerful solutions purpose-built for finance teams. With Jet Global, you get a business reporting solution for Microsoft Dynamics that enables your team to gain access to the data they need, without having to understand complex database structures.
Jet Reports/ Jet Analytics:
Our Jet Reports and Jet Analytics software seamlessly integrates with Microsoft Dyn365BC to simplify processes and speed up financial and operational reporting. Designed for business users, our purpose-built financial and operational reporting software delivers the business insights you need in a way that works for even the most non-technical user. Also, it helps to:
Streamline Monthly Reporting
Automate Business Process
Eliminate errors & improve accuracy
Reduce Dependence on IT
Streamline Monthly Reporting:
Jet Reports allows you to easily present monthly operational reports in the format needed, and you can use Jet formulas to pull your data straight from the ERP. With this you can say no to copying, pasting, and manipulating data manually.
Automate Business Process:
Businesses can automate the processes to transform and combine legacy data together with current data from multiple sources, in one consolidated reporting and analytics platform.
Eliminate errors & improve accuracy:
Jet Report provides Access, pulls all of your data directly in Excel instead of copying, pasting & manually exporting.
Jet Reports Reduce Dependence on IT:
Working from a data set prepared according to a predetermined set of business roles, Jet Reports enables you to write your own reports using intuitive drag and drop tools. You can refresh those reports as needed without waiting for input from IT, even if you are reporting across multiple companies.
For more information and a tailored demonstration contact us today at MetaOption.