If you want access to even richer business insights, Jet Reports can help you take Business Central further by turning complex data into clear reports and dashboards within Excel's interface.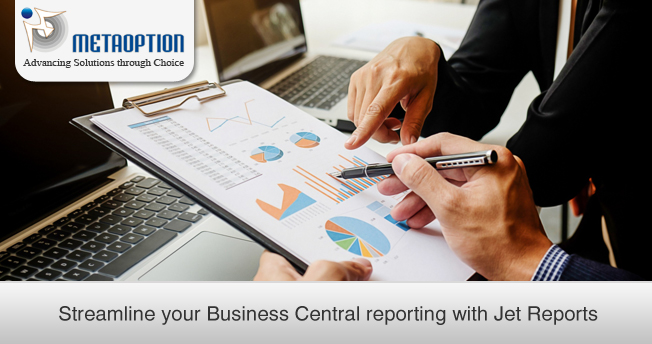 When you choose an ERP software like Microsoft Dynamics 365 Business Central you usually do so for reasons like:
Reduce costs improve revenue and mitigate risk
Generate timely, accurate reports to make smarter business decisions
Streamline complicated data processes so you can get the visibility you need
Generally, Business Central does all that and more.
Jet Reports is a reporting and BI solution certified by and developed with Microsoft. The easy-to-use extension seamlessly integrates with Excel, so you'll be able to pull out all the data you need in no time and collate it in a nicely presentable format. It is quick and easy to set up, and because it works within Excel's familiar interface, your team will be able to pick it up quickly and start using Jet Reports for your business.
Jet Reports Benefits for Dynamics 365 Business Central
Jet Reports offers a wide range of benefits in Microsoft Dynamics 365 Business Central:
Eliminate Errors and Never Second Guess Again
Pulls data directly into Excel, so you feel confident you're getting the right data and workbook
No tedious exporting or copy and pasting
Begin using and building reports immediately in a collaboration and publishing platform
Accurate governed data which everyone can rely on
Maximize ROI with Rapid Time-to-value
Get pre-built cubes and data warehouse dashboards, with extensive report and dashboard template library
Build and share dashboards within minutes, to gain valuable business insight from day one
Low cost of ownership, with a customization platform that is 6x faster than manual coding
Complete Data Warehouse Automation
Built specifically for Microsoft Dynamics and easily connects to Microsoft SQL database
Designed for Business Users
View data inside Excel or Microsoft Power BI for analytics in a familiar environment
Access dashboards and reports anytime, anywhere on the web or from a mobile device
Eliminate the need to understand the complicated underlying data structure
Cut Reporting Time and Costs
No hard-coding or programming skills required
Reports seamlessly update with ERP upgrades
Drill-down on the numbers directly from Excel
Whereas, with Jet Reports, your management team can view key performance metrics across all areas of your company in real-time, and track consolidated profit and loss by division.
In addition, you will get to access a detailed profit-and-loss ledger (with real-time updates) daily, monthly, or quarterly. You can also stay on top of accounts receivable KPIs in terms of days outstanding, past collection performance, and more. Also, running financial reports from your general ledger and distribute them on a daily, weekly, or monthly basis can't get any easier.
Your sales team will also benefit from the easily build product sheets that allow the company to extract current prices and specifications, and instantly update and release important changes. Also, they can even customize a sales dashboard using PowerPivot to help track monthly sales, and budget projections for future sales.
For more information and a tailored demonstration contact us at MetaOption.