When it comes to multinational and complex accounting functionality, including consolidations, the roots of Dynamics 365 Business Central have always been strong.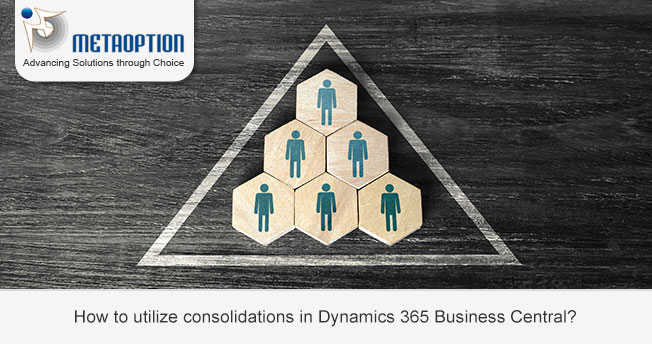 If your business organization needs to consolidate financial data for multiple business units or legal entities, or if you have subsidiaries that report to a parent organization, Business Central includes out-of-the-box tools to streamline those processes. Also, this blog explains what Consolidations in Business Central provides and how to use it.
What is the Function of Consolidations in Business Central?
In one word, Microsoft Dynamics Business Central accomplishes a great deal when it comes to consolidating subsidiaries for financial reporting. Here are the particulars:
It is possible to map different Charts of Account and Dimension structures from subsidiary companies to the master Consolidation company.
Allows you to identify a subsidiary's ownership percentage and automatically apply it to the consolidated financial data.
Allows you to consolidate financial data from subsidiary companies within the same Dyn365BC database by using a file created by another Business Central database or any other financial software capable of producing the required file format.
Creates a G/L entry for the net change in the balance of the mapped G/L Account(s) for the consolidation period for each subsidiary in the consolidation company.
Brings forward the relevant Dimension Detail for the Net Change, if desired. G/L Entry that has been created.
Consolidates foreign currency subsidiaries in line with FAS 52-Foreign Currency Translation standards.
Allows financial reporting at both the consolidated and subsidiary level from the consolidation company and allows you to re-consolidate previous periods if G/L balances in a subsidiary company have changed.
What Business Central Consolidations Don't Do?
Even though the list is brief, Business Central does not perform the following tasks when processing consolidations:
Create thorough G/L entries in the consolidation company using the subsidiary's daily transactions.
Bring forward information from the subsidiary company's posted sub-ledgers, such as the customer, vendor, and bank account ledgers.
Establish the subsidiary's posted documents in the consolidation company.
G/L budgets should be established in the consolidation company.
Automatically recognize or handle entries for elimination.
For more information and a tailored demonstration contact us today at MetaOption.