Microsoft Dynamics GP has become critical for many firms in search of a reliable ERP system. However, as businesses begin to explore for cloud solutions to handle critical business processes, they discover that they must transition from Dynamics GP to Business Central. The platform features a more modern UI as well as cloud-enabled capabilities that assist enterprises in streamlining and automating their procedures.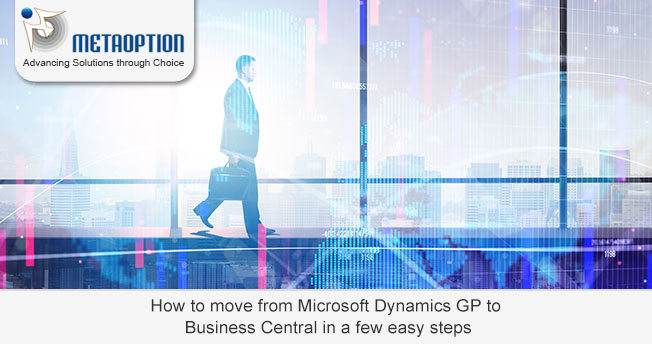 REASONS FOR SELECTING DYNAMICS GP FOR BUSINESS CENTRAL
The following are some typical reasons businesses are migrating from Dynamics GP to Business Central.
IMPROVED INTEGRATIONS
Integrations for third-party cloud services such as Microsoft Power Platform and Office 365 are built into Business Central. You may also combine the platform with other Dynamics 365 ecosystem offerings such as Sales, Human Resources, and Customer Service.
SECURITY IMPROVEMENT
Dynamics 364 Business Central's internal security protects enterprises from cyber attacks. Microsoft owns and manages data centers where information is kept. They use Transparent Data Encryption to encrypt all customer information and back up all data for speedy recovery in the event of an outage.
REPORTING IN ADVANCE
You can connect Business Central and Power BI to create integrated dashboards with data from many sources. Users may then examine everything that is happening within their organization from a centralized location, analyze data, and prepare reports for review by key stakeholders.
NO MANUAL IMPROVEMENTS
On-premises solution upgrades can be costly and time-consuming. All Dynamics 364 software receives automatic updates from Microsoft, which include bug fixes and additions. This lowers your costs and decreases system downtime.
DYNAMICS GP TO BUSINESS CENTRAL MIGRATION STEPS
CREATE A BUSINESS CASE
Before you begin the technical implementation, create a business case for migrating from Dynamics GP to Business Central. Examine where GP is going, what type of support it will require, and what your business can benefit from a Dynamics GP migration to Business Central. Discuss how you can utilize Business Central with more current business tools and technologies to leverage the cloud's potential.
INSPECT YOUR CURRENT SETUP
Examine your present Chart of Accounts configuration and reporting needs. Account for any changes made to support unique business procedures. What critical features do you want to keep in your new instance?
Also, check that your existing third-party programs and add-ons are Business Central compliant. Examine all current integrations and the difficulty of migrating them to your new platform. Make a list of any additional specific capabilities, modules, or enhancements that you would want to see incorporated in Business Central.
RECORD CURRENT PROCESSES
Outline all current Dynamics GP procedures, including what works and what you'd like to see improved. Talk to people who are already using the platform about where they are having problems and what processes are taking them longer to complete. When you begin your Dynamics GP to Business Central migration, you may have the opportunity to remedy those issues.
REVIEW YOUR BUSINESS'S FUTURE STATE
What is the organization's strategy for the next three to five years? It is beneficial to establish a company plan defining particular milestones to attain over that time frame. This allows you to evaluate the various ways in which Business Central can meet those requirements in ways that Dynamics GP cannot due to architectural constraints.
REVIEW TOOL FOR MIGRATION
Business Central includes built-in migration tools for moving data from Dynamics GP 2015 or later to SQL Server 2016 or later. A Business Central online tenant is required. Before you can migrate to Business Central, you must first update to a more recent version of Dynamics GP. Ascertain that your database is.
Compatible at 130 or higher levels
Statistics have been updated.
You've reorganized the indexes on all tables in the source database.
CHECK YOUR DATA
Consider how much data you want to transfer to the cloud. Ensure you have purchased enough storage capacity or environments to handle the load. Use this opportunity to tidy up your data, including information in your chart of accounts, vendor tables, and customer tables, before migrating it. Try not to bring in redundant data.
After you've decided what information to bring, look over the level of detail required. Consider the output needed to meet your reporting requirements, and then move backward from there. Other information to consider as part of your relocation strategy is:
Outstanding business transactions
Purchase orders that are open
Items in the inventory
Receivables, Sales Order Processing, and Purchase Order Processing Checkbook master data are examples of historical information.
For more information and a tailored demonstration contact us today at MetaOption.