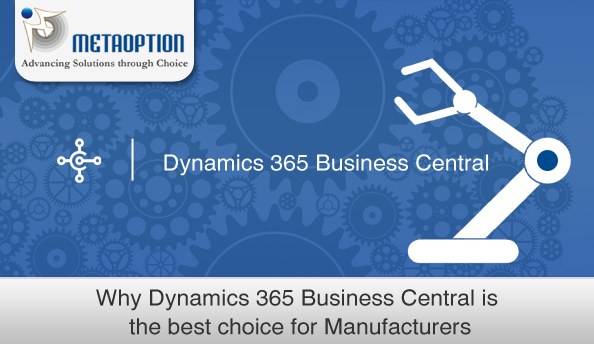 What do manufacturers actually look for in an ERP system? Because of their very unique requirements, they want their ERP system to be streamlined, aligned, integrated, and flexible. It goes without saying that it must make the business processes accurate and efficient. And from the source to the final delivery, including the production orders, version management, bills of materials, sales, and inventory forecasting, supply planning, capacity planning, demand forecasting, and agile manufacturing, all stages should be cared for in one solution.
Microsoft Dynamics 365 Business Central ERP solution is really the best choice for manufacturers. It can provide such a flexible reliable solution, the businesses can commit to customers' requests, adjust quickly to changing the circumstances, and stay on top of the opportunities that will put them out in front of their competitor's list. Dynamics 365 Business Central can provide real-time visibility into the entire workflow as well as the ability to add the other additional functionality as your business needs to expand.
The Advantage of The Cloud
Dynamics 365 Business Central's foregoing was one of best Microsoft's premier offerings, Dynamics NAV. Microsoft Dynamics 365 Business Central elevates that powerful manufacturing, distribution, and supply chain management system to the power, convenience, and mobility of the cloud. Because of the power of the cloud, Business Central owners won't have any tension of scheduling updates and the business disruption that could bring.
System setup, performance assurance, data management, and security are all handled within the cloud-based product; there is no need for dedicated IT resources to worry about the implementation and ongoing support.
Efficiency and Flexibility
Efficiency is flexibility in an ERP system are the key components for manufacturers. Dynamics 365 Business Central offers efficiency and flexibility, and MetaOption can help you to take this software to the next level by adding extensions as needed to provide functionality unique to your requirements.
To streamline your business processes, Business Central allows you to access Microsoft features and the products that can provide actionable information, such as Business Intelligence. Interactive dashboards and versatile reports allow Power BI to convert manufacturing analytics into actionable knowledge.
Streamline your Budgets
Dynamics 365 Business Central Business Central allows to lets you budget and report actuals by your 'Cost Centers', 'Locations', 'Revenue Generators', 'Items', 'G /L Accounts', or any of your key 'Business Drivers' with its dimensional chart of accounts structure. The system will keep track of actuals and provide real-time comparison reporting via its dashboards and advance reports.
For those business organizations that have multiple companies, Dynamics 365 Business Central allows you to have budgets for each company and can assist you with consolidating the budgets across companies.
Analyze Business Data
Business Intelligence is used by Dynamics 365 Business Central to assist end-users in data analysis and reporting. This works mainly with the help of dimensions. These dimensions in Business Central are custom attributes that can be assigned to a variety of different entry records. Also, it can then be grouped by similarities such as a region or product, and with reporting via account schedules. Business Intelligence accomplishes a variety of tasks including:
Comparing actual v/s budgeted amounts
Set up analysis views using dimensions
Create analysis reports for sales, purchases, and inventory
Establishing KPIs and analyzing financial performance
Dynamics 365 Business Central is the best ERP for manufacturers. With Dynamics 365 Business Central, you'll be in a unique position to leverage the cloud-based technology to satisfy all your company's manufacturing needs and requirements by connecting with the powerful tools, software, and apps into one seamless ERP system.
For more information and a tailored demonstration contact us today at MetaOption.