The Admin Portal in Microsoft Dynamics 365 Business Central is typically not used to its full potential by most enterprises. However, the success of Business Central depends on this platform.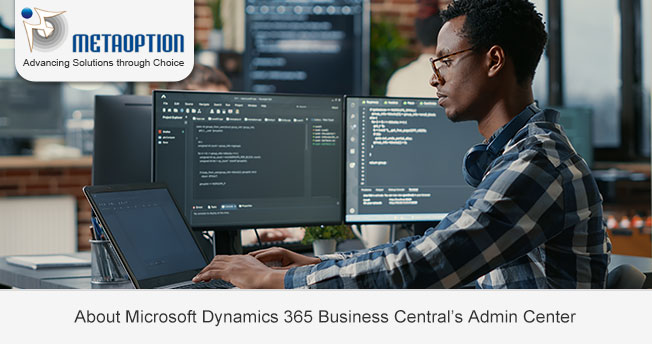 The Business Central Admin Center allows users to perform administrative tasks such as:
App Management
Schedule updates
Change the notification settings
Control storage capacity
Rename, relocate, test, and restore environments
How to Use the Dyn365BC Admin Center?
Within the Admin Center portal, users can carry out several significant tasks, including:
Notifications
Administrators manage who receives messages from Microsoft on upgrades, outages, and other general information about the Business Central environment.
When events occur in tenant environments, such as when extensions need to be modified to be compatible with impending updates, a notification may serve as an alarm.
Updates
Microsoft plans two significant updates every year in addition to minor updates every month, usually in April and October. Although Microsoft oversees the platform and base program, administrators can plan when updates will be made, usually outside of normal business hours, and see when they were finished. Additionally, administrators can specify who in their organizations needs to be notified of updates.
Capacity
Administrators can check their company's overall database storage consumption on the "Capacity" page via the Admin Center to keep track of data prices. Information on storage in any setting can be got on this page. Notifications can be provided to the appropriate individuals for action if data is approaching capacity restrictions.
Databases
Authorized users can export databases to an Azure storage container through the Admin Center.
Environments
Users can create preview or sandbox environments in the Admin Center to get their program ready for new updates or features. Before being required to utilize new features, these test settings provide consumers the chance to get to know them. Through Admin Central, administrators can also manage production environments, including relocating, renaming, or restoring environments.
User Sessions
Through Business Central's Admin Center, manage user sessions by accessing details about currently active sessions on an environment or canceling certain sessions.
The Business Central Admin Community's Significant Role
The efficiency of Business Central depends on the Admin Center. Users with the Global admin or Dynamics 365 admin roles, as well as internal administrators, have access to the portal. The BC Admin Center is also accessible to anyone with help desk agents and admin agent responsibilities assigned through the Microsoft Partner Center.
Through its Dynamics 365 Ideas website, users, partners, and clients may also provide comments to Microsoft on how to improve Business Central. You can post your thoughts in the Microsoft Dynamics 365 Experience forum if you wish to influence the direction of Business Central. The Business Central Ideas portal allows the public to communicate with Microsoft.
Microsoft takes community members' opinions and invites them to vote in favor of any proposals. Future releases will incorporate any proposals that receive a sufficient number of votes from the public. For more information about Dynamics 365 Business Central contact us today at MetaOption.