Capacity Building is bound to be the area where most of the researches & integrations will abound in. Web world sensed it decades back & started investing & working on it. Today's various ERP systems with distinct workings offering the enshrined results appearing to be toeing the same envisioned thought of Capacity Building.
Various sectors would have devised their own ways of Capacity Building. But there are certain solutions from web world that run across every industry of any sector. Such solutions before us now are Microsoft Dynamics NAV 2013 & Microsoft SharePoint 2013. These offerings by Microsoft are changing the grounds for the professionals. Their adoption has brought in efficiency & ease in executing the things.
Tasks ranging from pivoting on excel to reporting are now foregone stories. Enterprise Resource Planning remained to be a fundamental of sharing, which has got more simplified with above said two. One must be taking a thought that if these two in their individualities can make a difference or they being in some integrated relation do the same.
Integration
The joining of the energies, bringing certain new outcomes is a general truth. Same gets ratified in the case of the integration of Microsoft Dynamics NAV 2013 & Microsoft SharePoint 2013. It will turn out to be more significant if we first understand their capacities in their individualities.
Microsoft SharePoint 2013
a. Business Productivity
1. Document Management – Functionality of Drag & Drop has replaced the uploading of documents.
2. Library Scalability – Limitations in relation to Library Scalability are no longer there. Taking documents or content offline & SharePoint workspace replacement are new things.

3. Sharing – Dropbox & Sky Drive are the main chariots of ease. Ease of dropping the document, files getting shared through the attachments of emails within a security arrangement serves to be a good professional deal.
4. User-Interface – Certain deletions like "Site Auction", cog icon taking the place of settings, no useless photos that remained with previous versions of SharePoint.
5. Search Information Architecture – It sounds to be robust in 2013 version as new provisions in the form of "Search Refiners", "View Library" & 'Quick Document Views' have got added. It will save much time in finding the document
Microsoft Dynamics NAV 2013
1. Expanded Functionality – Tasks like assembly management, cost accounting, timeline visualization, cash flow forecasting always leaves open an area for improvements. MS Dynamic NAV 2013 showed a leap in working on these efficiently.
2. Remoteness No Longer An Issue – Things like people, manufacturing or development, distribution happening in an enterprise at different places will get accustomed to an interface reflecting the work progress in individuality totality.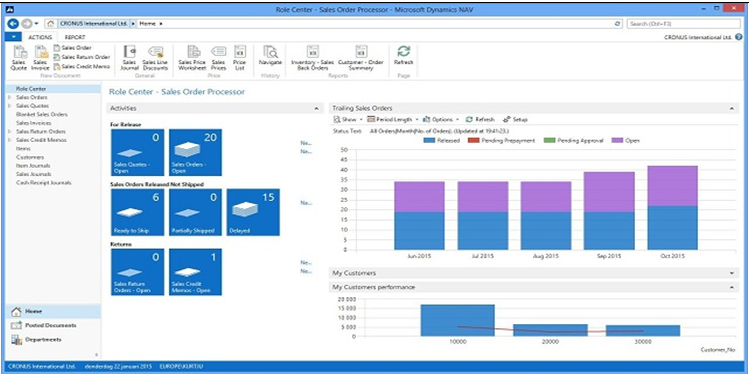 3. Greater Visibility in Cost Accounting – Actual & budgeted operating cost comes to the fore to ascertain missed directions. Ease in getting general ledger & cost information in sync. Allocation of costs to varied allocation centers.
4. Forecasting of Cash Flow Speedy actualization of the cash position, cash flow for short term, disbursements & cash receipts.
Benefits of the Integration of the Duo
Systematically bringing out web parts to have better usability
With licensing models cost saving of significant kind will be achieved.
The interface being web-based will remain user-optimized
Easy configuring without going for programming
With EDV & internet high flexibility will get achieved
Areas like E-Procurement, CRM, management reporting get simplified
Monetary Management, filtering in the list application, enhanced local search bar as synergized additions.
There remain many professionals or professional enterprises that may achieve this integration for us. Still always there remains one thought if any other distinction in integration may exist than what is being offered. In such dilemma better it will be to have a research over this integration on all the resources available at ease.